EzriCare Drops Caused Bacterial Eye Infection, Vision Loss and Conjunctivitis: Lawsuit
July 05, 2023
By: Irvin Jackson
An Alabama man indicates in a recently filed lawsuit that he suffered conjunctivitis, vision loss, and permanent eye damage from Ezricare drops, after the recalled Artificial Tears caused a dangerous bacterial infection.
The complaint (PDF) was brought last week by James Richardson in the U.S. District Court for the District of New Jersey, pursuing damages from Ezricare LLC, Ezrirx LLC, Global Pharma Healthcare Private Ltd., Aru Pharma, Inc. and Amazon.com, Inc. as defendants.
Richardson joins a growing number of consumers now pursuing an EzriCare drop lawsuit, after developing Pseudomonas aeruginosa infections from contaminated bottles of Artificial Tears that were recalled in February 2023. In addition to vision problems, consumers have also experienced serious blood stream infections, eyeball removals and death after using the eye drops.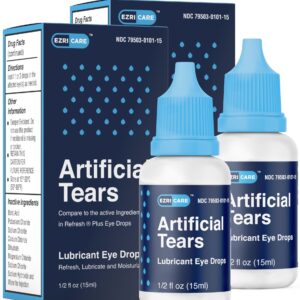 According to the lawsuit, Richardson purchased Ezricare Artificial Tears drops from Amazon.com in July, October and December of 2022. However, in February 2023, he began experiencing a burning in his eyes, and was diagnosed with acute conjunctivitis.
The problems continued to worsen, and within days Richardson began to experience blurred vision. It was at that time he was diagnosed with a pseudomonas bacterial infection. As he began to develop more pain and burning, discharge, and redness in his eyes, he was prescribed a number of drugs for treatment, but has suffered vision loss and conjunctivitis as a result.
The lawsuit indicates his injuries are debilitating and permanent.
"The CDC has isolated the specific strain of Pseudomonas Aeruginosa as Verona Intergron-mediated Metallo-β-lactamase (VIM) and Guiana-Extended Spectrum-β- Lactamase (GES)-producing carbapenem-resistant Pseudomonas aeruginosa (VIM-GESCRP). This particular strand is incredibly drug-resistant and dangerous," the lawsuit notes. "Prior to this outbreak, the CDC reported that this particular strain of Pseudomonas Aeruginosa 'had never been reported in the United States'."
EzriCare Drops Recall
The U.S. Food and Drug Administration (FDA) first announced the EzriCare drops recall on February 2, after at least 55 individuals had already reported severe eye infections after exposure to bacteria in eye drops, with several resulting in permanent blindness and at least one death from a severe bloodstream infection.
The recall impacted multiple versions of the lubricant eye drops sold in ½ fluid ounce (15 ml) bottles, including Artificial Tears packaged under the brand names EzriCare, as well as Delsam, with the following UPC and NDC codes;
Ezricare (blue box): NDC 79503-0101-15 with UPC 3 79503 10115 7, and
Delsam Pharma (white box): NDC 72570-121-15 with UPC -72570-0121-15
According to a recent report by the U.S. Centers for Disease Control and Prevention (CDC), the recalled eye drops have now been linked to at least 81 cases of bacterial contamination, and the number is expected to grow as more individuals discover that the EzriCare drops may have caused their injuries.
Lawyers are actively investigating potential EzriCare drop infection lawsuits against the manufacturers for multiple injuries and side effects caused by the contamination, including;
Eye Infection
Partial Blindness
Permanent Blindness
Bloodstream Infection
Other injuries caused by the eye drops
"*" indicates required fields