Gerber Good Start Recall Issued For SoothePro Infant Formula Over Cronobacter Contamination
March 20, 2023
By: Irvin Jackson
A recall of Gerber Good Start SoothePro powdered infant formula has been issued in the U.S., due to concerns that containers may be contaminated with cronobacter sakazakii bacteria, which may cause severe and potentially life-threatening infections.
The U.S. Food and Drug Administration (FDA) announced the Gerber Good Start recall on March 17, due to concerns that certain lots of the infant formula manufactured at a Wisconsin plant may be contaminated.
While information has not been released to explain how the risk was identified, the manufacturer indicates that it has not identified any products distributed to consumers that tested positive for cronobacter contamination, and no illnesses have been reported in connection with the recalled Gerber Good Start SoothePro formula.
Gerber Good Start Formula Infection Risk
Cronobacter sakazakii is a rare type of bacteria, often found in dry foods, such as infant formula, skimmed milk powder, tea and starches. The bacteria exists in the environment and can survive in very dry conditions, making transmission of the infection possible by touching contaminated surfaces.
The infections can be particularly deadly for infants and the elderly, or those with weakened immune systems. The bacteria may cause serious life-threatening infections or meningitis (an inflammation of the membranes that protect the brain and spine).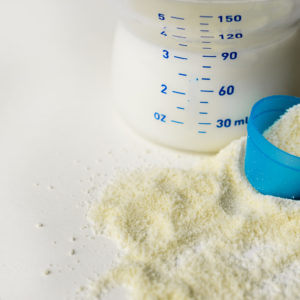 The recalled Gerber infant formula was manufactured by Perrigo Company plc at its Eau Claire, Wisconsin manufacturing facility between January 2 and January 18, 2023. At least 13 lots of the powdered formula have been identified as potentially contaminated, including Gerber Good Start SootheProTM sold in 12.4 oz., 19.4 oz, and 30.6 oz containers. A full list of affected lot codes and "use by" dates, which can be found on the bottom of the packages, is available in the recall notice linked above.
Consumers with affected products can call the Gerber Parent Resource Center at 1-800-777-7690.
Cronobacter Infant Formula Recalls
This is the latest in a series of infant formula cronobacter contamination recalls in recent months, as the FDA and manufacturers continue to take a closer look at the risk of contaminated infant formula being distributed. The increased scrutiny came after a massive Similac recall in February 2022, which resulted in a nationwide infant formula shortage.
Widespread distribution of contaminated Similac, Alimentum and Elecare formula has been blamed for causing hundreds of infant illnesses nationwide last year, including at least two infant deaths, and subsequent investigations have revealed Abbott ignored industry safety standards and best practices at its facility for years, endangering children for the sake of profits.
Shortly after the Similac recall, individual and class action lawsuits started to be brought, and it is ultimately expected that several thousands infant formula recall lawsuits may be included in the litigation.
Earlier this month, the U.S. Centers for Disease Control and Prevention (CDC) published a study warning about the importance of wider awareness of the risks of cronobacter in powdered infant formula and from improperly cleaned breast pump equipment.
CDC researchers urged infant caregivers to be more aware of the potential risks of cronobacter, and also called for better preparation, storage practices and sanitation for infant formula and breast pumps. However, in the case of infant formula, they recommended avoiding it for infants facing the highest health risks.
In addition, the FDA issued cronobacter recalls for ByHeart infant formula in December 2022, and Enfamil ProSobee last month, as the agency has stepped up enforcement to ensure the products are safe.
March 2023 Similac Recall Lawsuit Update
Problems with Similac formula have resulted in two separate coordinated proceedings in the federal court system, including one multidistrict litigation (MDL) established before U.S. District Judge Matthew F. Kennelly in the Northern District of Illinois for all Similac, Alimentum and EleCare recall lawsuits. A separate MDL proceeding has been established for all Similac lawsuits and Enfamil lawsuits brought over the risk of necrotizing entercolotis (NEC) caused by cow's milk formula products, which are centralized before U.S. District Judge Rebecca R. Pallmeyer.
While early pretrial proceedings before Judge Kennelly are still being established in the litigation over contaminated baby formula, Several Similac NEC lawsuits before Judge Pallmeyer have been selected for bellwether trials, which will be held to help the parties evaluate how juries will respond to certain evidence and testimony about the risks associated with use of cow's milk formula among premature infants, which has been linked to NEC.
Although the outcome of these bellwether trials will not be binding on other plaintiffs pursuing lawsuits against Abbott, they may have a large impact on the amount of Similac settlements the manufacturer may pay to avoid the need for each individual lawsuit to go before a separate jury.
"*" indicates required fields