Study Finds Link Between Heart Problems and Nexium, Prevacid, PPIs
July 11, 2013
By: Irvin Jackson
A widely used class of heart burn drugs, which includes Nexium, Prevacid and other blockbuster medications, may be linked to an increased risk of cardiovascular problems, according to the findings of new research.  
In a study published this month by the medical journal Circulation, researchers demonstrate for the first time how acid reflux drugs, known as proton pump inhibitors, could be increasing the odds of users contracting cardiovascular disease. The researchers warn that their findings raise concerns about the widespread use of the drugs and call for more research into the risks.
Researchers from the Texas Methodist Hospital Research Institute and Stanford University found that proton pump inhibitors (PPIs) increase the level of plasma asymmetric dimethylarginine, also known as plasma ADMA, and decrease levels of nitric oxide. This leads to constriction of blood vessels. Given this effect, regular use of PPIs could lead to high blood pressure, also known as hypertension, which can lead to heart problems and strokes.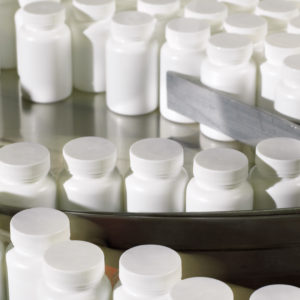 The researchers concluded that their findings are a plausible explanation for a link between drugs like Nexium and heart problems, including major cardiovascular events. They expressed concern over the wide use of PPIs, which are among some of the most commonly used medications in the United States.
"Of concern, this adverse mechanism is also likely to extend to the general population using PPIs," the researchers warned in their conclusion. "This finding compels additional clinical investigations and pharmacovigilance directed toward understanding the cardiovascular risk associated with use of the PPIs in the general population."
PPIs reduce the amount of acid in the stomach and are used to treat gastroesophageal reflux disease (GERD), as well as heartburn, ulcers in the stomach and small intestines, as well as inflammation of the esophagus.
Nexium is the most widely used medication from this class, with more than $6 billion in annual sales. Other drugs in this class include Prevacid, Prilosec, Protonix, Zegerid, Aciphex and Vimovo, with some available in over-the-counter formulations.
Other Heartburn Drug Risks
Long-term use of PPIs like Nexium have previously been linked to a number of other side effects as well, including infections, bone fractures and an increased risk of pneumonia.
According to a study published in the American Journal of Gastroenterology in July 2012, long-term use of proton pump inhibitors was associated with a 69% increased risk of contracting a clostridium difficile-associated diarrhea (CDAD) infection. The study followed an FDA warning in February 2012 alerting health care workers that patients who experience diarrhea while taking Nexium, Prilosec or another PPI, which  does not improve, could be suffering from CDAD and said that new warning labels for all PPIs were in development.
In another study in late 2010, South Korean researchers determined that taking PPIs increase the risk of pneumonia by as much as 27%.
The FDA forced the manufacturers of Nexium and all other proton pump inhibitor (PPI) medications to update the warning labels in 2010, adding information about a potential risk of risk of fractures and bone problems associated with use of the medications.
That warning was updated again by the FDA in 2011, indicating that the risk of broken bones from Nexium appears to be linked to high doses of the medication used over long periods of time, which is exactly the kind of prescribing behavior the study found happens far too often.  Over-the-counter versions of the drug did not appear to be affected, according to federal drug regulators.
A number of former users who have suffered bone fractures are now pursuing a Nexium Lawsuit, alleging that AstraZeneca failed to adequately warn about the risks associated with long term use of the heartburn drug.
In December 2012, the U.S. Judicial Panel on Multidistrict Litigation (JPML) established a Nexium bone fracture MDL, consolidating at least 39 injury lawsuits filed in U.S. District Courts throughout the United States.  Many of those complaints also contain a large number of individual plaintiffs.
Kay

January 24, 2019 at 3:35 pm

Gladys, the exact same thing happened to my husband.

Gladys

January 23, 2017 at 4:46 pm

My husband died of cardiac arrest after taking generic prilosec as prescribed.
"*" indicates required fields