Home Gardener Says Roundup Exposure Led To Non-Hodgkin Lymphoma In Lawsuit
May 10, 2016
By: Irvin Jackson
While most of the lawsuits over Roundup filed in recent months against Monsanto have been brought by farmers and others in the agriculture industry, a growing number of homeowners and home gardeners are now raising similar claims, indicating that they developed non-Hodgkin's lymphoma or other cancers following exposure to the popular weedkiller. 
One of the latest of cases was filed late last month by Elaine Stevick, and her husband Christopher, in the U.S. District Court for the Northern District of California. According to the complaint (PDF), Stevick was diagnosed with non-Hodgkin lymphoma following extensive use of Roundup in her herb garden for years.
The lawsuit names Monsanto Company as a defendant, accusing the manufacturer of the glyphosate-based weedkiller of providing false and misleading marketing statements that suggested the chemical was safe for humans and the environment. However, Stevick indicates that Monsanto has known for years about the potential link between Roundup and non-Hodgkin lymphoma, yet withheld information from consumers.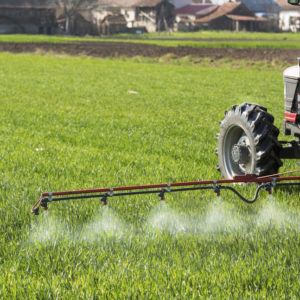 The case is one of a growing number of Roundup exposure lawsuits brought since the World Health Organization (WHO)'s International Agency for Research on Cancer determined last year that glyphosate probably causes cancer in humans.
Stevick indicates that Monsanto has suggested that Roundup is "practically non-toxic", and "safer than table salt." However, the complaint notes that in 1996 Monsanto was sued by the New York Attorney General for its false and misleading claims surrounding the safety of Roundup, and was forced to change the label for products sold in the state.
"Despite the fact that [Monsanto] knew or should have known that Roundup posed a grave risk of harm, it failed to exercise reasonable care to warn of the dangerous risks associated with use and exposure," according to the complaint filed by Stevick. "The dangerous propensities of its products and the carcinogenic characteristics of glyphosate… were known to [Monsanto], or scientifically knowable to Defendant through appropriate research and testing by known methods, at the time it distributed, supplied or sold the product, and not known to end users and consumers, such as Plaintiff."
A recent U.S. Geological Survey on glyphosate usage nationwide found that an estimated 2.6 billion pounds of the herbicide has been sprayed on America's agricultural land over the two decades since the mid-1990s, when Monsanto introduced "Roundup Ready" crops that are designed to survive being sprayed with glyphosate, killing the weeds but not the crops.
In all that time, the FDA has never tested for residue or buildup in the food sold to Americans nationwide. In a report published in 2014, the Government Accountability Office (GAO) criticized the FDA for this deficiency in its pesticide program.
As Roundup injury lawyers continue to review and file cases for individuals throughout the U.S. who have been diagnosed with non-Hodgkin's lymphoma or other forms of cancer, it is ultimately expected that Monsanto will face several thousand complaints in courts throughout the U.S.
"*" indicates required fields