Abbott Faces New Investor Class Action Lawsuits Over Similac Recall
June 30, 2023
By: Irvin Jackson
Abbott Laboratories and its chief officers face two new investor class action lawsuits over a Similac recall last year, accusing them of damaging the company's interests and value to investors, by failing to make sure infant formula products distributed to families nationwide were safe.
The lawsuits stem from widespread contamination of Similac, Alimentum and EleCare formula, which sickened hundreds of babies nationwide, resulted in a massive recall and a temporary shutdown of Abbott's Sturgis, Michigan manufacturing facility. The investors indicate that the company's actions have caused billions of dollars in damage to Abbott's value since 2019, due to the "illegal, unsafe and unethical production and sale of Infant formula products" in the U.S.
One complaint (PDF) was filed by the International Brotherhood of Teamsters Local No. 720 Pension Fund and the Southeastern Pennsylvania Transportation Authority. The other complaint (PDF) was filed by the Comptroller of New York State as the trustee and administrative head of the state and local retirement system. Both lawsuits were filed on June 27 in the U.S. District Court for the Northern District of Illinois.
Similac Recall Over Cronobacter and Salmonella Contamination
Abbott Laboratories recalled Similac, Alimentum and Elecare formula products in February 2022, after it was confirmed that powdered formula manufactured at a Michigan facility was contaminated with Salmonella Newport and Cronobacter sakazakii bacteria.
At least two infant deaths and hundreds of illnesses have been reported by parents who fed the recalled formula to their children, and subsequent investigations have revealed Abbott ignored industry safety standards and best practices at its facility for years, endangering children for the sake of profits.
Shortly after the Similac recall, lawsuits were filed by families of babies who experienced problems. However, a number of Similac recall class action lawsuits were also filed, seeking economic damages for all consumers who purchased the contaminated formula, even if no injuries resulted from the contamination.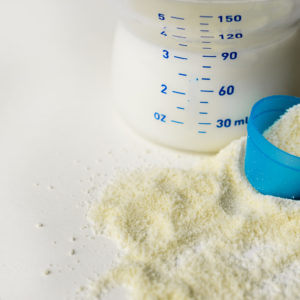 Given common questions of fact and law raised in the complaints, the U.S. Judicial Panel on Multidistrict Litigation (JPML) has established centralized pretrial proceedings for all lawsuits over the Similac recall brought throughout the federal court system, consolidating the cases as part of an MDL before U.S. District Judge Matthew F. Kennelly in the Northern District of Illinois.
The investor lawsuits accuse Abbott of ignoring safety problems at the facilities for years, some details of which were uncovered by FDA inspections months before the recall was announced. According to allegations in the complaints, Abbott's leading officers and board members ignored these problems, putting short-term profits above both the safety of its vulnerable consumers and above the company's long-term health and reputation, thus negatively impacting the company's value and the value of investments in the company.
The investors say that, in addition to unsafe practices at the Sturgis facility, Abbott used aggressive and amoral marketing tactics to convince new mothers to use its products. Through these tactics, investors claim Abbott deceived mothers into thinking its infant formula products are safer than they actually are, particularly its cow's milk-based products, which have been linked to an increased risk of necrotizing enterocolitis (NEC) in preterm infants.
"Notably, the Board and the Company's management have authorized Abbott to pursue these marketing tactics for decades, and therefore, they are now ingrained as part of the Company's culture," the lawsuits state. "As such, those tactics, which are unethical and violate the Company's corporate governance policies, while also potentially constitute illegal anti-competitive actions, continue unabated at Abbott while the Individual Defendants served as Abbott's directors and officers."
The lawsuits accuse Abbott and its officers of breaches of fiduciary duty, and also accuses some of the officers of insider trading, resulting in billions of dollars in losses to the company's value and, thus, their investments.
Other Similac Recall Class Action Lawsuits Dismissed
The new complaints come about a month after Judge Kennelly granted a motion to dismiss some Similac recall class action lawsuits filed by purchasers of the recalled infant formula products. However, those claims were from buyers who sought economic damages and refunds for purchasing infant formula which may have had no inherent value and potentially endangered their children's lives.
Abbott's motion to dismiss argued that plaintiffs failed to adequately prove standing, meaning they suffered direct injury, and could not plausibly argue that the products were defective.
Judge Kennelly's May 22 order dismissed 10 Similac class action lawsuits.
July 2023 Similac Recall Lawsuit Update
As part of the coordinated management for the remaining Similac injury lawsuits, it is expected that Judge Kennelly will establish a bellwether trial program, where small groups of representative claims are prepared for early trial dates.
While the outcome of these bellwether trials will not be binding on other cases, they will be used to help gauge how juries are likely to respond to evidence and testimony which could be repeated in hundreds of separate trials, and may help form the basis of a Similac recall settlement agreement.
A similar process has been established in a separate federal MDL established for all Similac lawsuits over NEC diagnosed among premature infants fed the cow's milk-based infant formula.
Tags:
Abbott Laboratories,
Baby Formula Recall,
Cronobacter,
Food Poisoning,
Infant Death,
Infant Formula,
Investor,
Investor Lawsuit,
Necrotizing Enterocolitis,
Similac,
Similac Recall
Image Credit: Jonathan Weiss / Shutterstock.com
"*" indicates required fields