Johnson & Johnson Will Remove Talc Powder from Market Globally Amid Cancer Litigation
August 12, 2022
By: Irvin Jackson
Following billions in damages already awarded in the talcum powder cancer litigation, involving claims that Johnson's Baby Powder caused women throughout the United States to develop ovarian cancer, Johnson & Johnson announced this week that it will remove all talc-based products from the market in all countries.
Johnson & Johnson previously removed talc powder from the U.S. market in 2020, amid mounting concerns about the health risks and asbestos particles found in many products. However, the company continued to use talc in Johnson's Baby Powder sold in certain countries outside the U.S.
On August 11, Johnson & Johnson Consumer Health issued a statement announcing plans to stop using talcum powder globally in its Baby Powder next year. Despite its plans, which include a switch to cornstarch-based powdered cosmetic products, the company continued to defend the safety of its talc-based powder products in the statement.
Johnson's Baby Powder Lawsuits Over Talc Cancer Risks
Johnson & Johnson faces about 40,000 Baby Powder lawsuits and Shower-to-Shower lawsuits brought by former users diagnosed with ovarian cancer, mesothelioma and other injuries, which they allege were caused by exposure to talc and asbestos particles in the popular talcum powder products, which were sold for decades without warnings about health risks Johnson & Johnson knew they would face.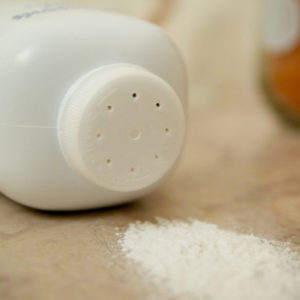 The statement claims the switch will simplify the company's product offerings and meet trends in sustainability, and maintains that the company's products do not cause cancer and do not contain asbestos.
"As part of a worldwide portfolio assessment, we have made the commercial decision to transition to an all cornstarch-based baby powder portfolio," the press release issued this week states. "As a result of this transition, talc-based Johnson's Baby Powder will be discontinued globally in 2023."
Although Johnson & Johnson has continued to defend talc use and marketing that encouraged adult women to apply the Baby Powder on a daily basis around their genitals, a number of juries have rejected the safety information the manufacturer has relied on, and hit the company with a number of massive damage awards in cases that have gone to trial.
Johnson & Johnson's Controversial Bankruptcy Filing
With a number of talc powder cancer trials scheduled to go before juries this year, Johnson & Johnson has pursued a controversial "Texas Two-Step" bankruptcy plan this year, attempting to break off the massive liability it faces for failing to warn consumers about the cancer risks from talcum powder into a separate company, LTL Management, LLC, which critics have argued was created solely for the purpose of placing it into bankruptcy and delaying justice for plaintiffs seeking compensation through the U.S. Court system.
For months, U.S. Bankruptcy Judge Michael Kaplan has agreed to continue a stay on all talcum powder cancer litigation in the United States, while the parties attempt to establish a settlement program through the bankruptcy process.
The Johnson & Johnson talc powder bankruptcy scheme has been widely criticized by plaintiffs lawyers, as well as bankruptcy experts, as an abuse of the legal process and effort to delay a series of trials that were expected to go before juries this year.
Talcum powder plaintiffs say Johnson & Johnson, which has billions in cash reserves, has no financial distress that would merit a bankruptcy filing. However, since the bankruptcy is being allowed to move forward, settlements for talcum powder cancer and asbestos lawsuits may be artificially capped.
Defending against the talc ovarian cancer claims has already cost Johnson & Johnson $1 billion, on top of Baby Powder settlements and verdicts that have amounted to another $3.5 billion, according to the bankruptcy filing.
Kathy

November 27, 2022 at 1:57 pm

Does my cancer and the history of what they found in my reproductive organs after my hysterectomy? My God I put this lethal crap on my babies. I last my niece at 48 from brain cancer that had markers that the cancer started in her lungs although she never had lung cancer.
"*" indicates required fields