Philips DreamStation CPAP Caused Adenocarcinoma of the Lung, Lawsuit Alleges
December 05, 2022
By: Irvin Jackson
Plaintiff indicates that he was one of the millions impacted by a Philips DreamStation CPAP recall issued in July 2021
Sound abatement foam in the Philips DreamStation CPAP has been found to break down and release toxic particles into the sleep apnea machine's air pathways
Lawsuit alleges that the foam particles from the Philips DreamStation CPAP caused adenocarcinoma of the lung
Case joins hundreds of similar lawsuits over the Philips DreamStation CPAP being pursued
A product liability lawsuit alleges toxic sound abatement foam in a Philips DreamStation CPAP caused a Florida man to develop adenocarcinoma of the lungs, after particles and gasses were released directly into the sleep apnea machine's air pathways.
The complaint (PDF) was filed by Richard Obert in the U.S. District Court for the Eastern District of Pennsylvania on November 29, naming Koninklijke Philips and its U.S. Subsidiaries, as well as Polymer Technologies, Inc. and Polymer Molded Products, LLC., as defendants.
Obert was one of several million sleep apnea sufferers impacted by a massive Philips DreamStation CPAP recall issued in July 2021, affecting all sleep apnea machines and mechanical ventilators that contained a polyester-based polyurethane (PE-PUR) foam to reduce noise and vibrations while the machine was used. At that time, the manufacturer acknowledged that the foam is prone to breakdown, releasing harmful chemicals and debris directly into the machine's tubing and air mask, where it is then breathed into the users' lungs.
Ingesting the foam particles has been linked to reports of cancers, lung damage and severe respiratory injuries, according to allegations raised in hundreds of other similar Philips DreamStation CPAP lawsuits already being pursued by former users.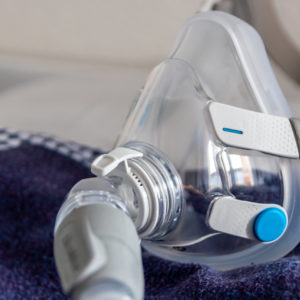 Philips CPAP Recall Lawsuit
Due to the serious side effects from the Philips DreamStation CPAP foam, the FDA urged all owners to immediately stop using the machines after the recall, unless the devices were needed for life-sustaining therapy.
According to the lawsuit, Obert used a DreamStation DSX500H11 model CPAP machine for years before the recall, and was diagnosed with adenocarcinoma of the lung.
This form of lung cancer from the Philips CPAP foam develops in the cells that secret mucus and other substances. It is the most common form of lung cancer diagnosed in the United States and is the leading cause of cancer death in the country.
Philips DreamStation Injury Reports
The lawsuit came just days after the U.S. Food and Drug Administration (FDA) issued an update on November 22, providing new information about the number of medical device reports (MDRs) submitted by users over the past year and a half.
Since the recall, more than 90,000 reports have been submitted by Philips, doctors and patients, including 260 reports of death linked to the breakdown of PE-PUR foam. Other problems reported by users include indications that the CPAP machines caused cancer, pneumonia, asthma, infections, headaches, coughs, dyspnea, dizziness, nodules, chest pain and other respiratory problems.
In September 2021, Philips announced a CPAP machine repair and replacement program, but there have been some concerns about the safety of the alternative foam material the manufacturer is using, which may also release harmful chemicals directly into the machine's air pathways.
The FDA has criticized Philips handling of the recall, indicating that the company has not done enough to warn consumers about the health risks associated with continuing to use recalled CPAP machines.
December 2022 Philips DreamStation CPAP Lawsuit Update
According to a docket report (PDF) released by the U.S. Judicial Panel on Multidistrict Litigation (JPML) on November 15, 2022, there are currently at least 346 Philips recall lawsuits filed in the federal court system. However, thousands of additional claims involving cancer and lung damage among former users of the breathing machines have been registered on a tolling agreement.
Given common questions of fact and law raised in the Philips DreamStation lawsuits brought throughout the federal court system, the federal claims are all consolidated before U.S. District Judge Joy Flowers Conti in the Western District of Pennsylvania, who is presiding over coordinated discovery and pretrial proceedings.
Over the remainder of 2022 and 2023, the parties are expected to establish a "bellwether" process where a small group of representative claims involving different types of breathing machines will be prepared for early trial dates to help gauge how juries are likely to respond to certain evidence and testimony that will be repeated throughout the litigation. However, Judge Conti has already appointed a Philips CPAP recall settlement master to work with the parties and determine whether an early agreement can be reached to resolve claims.

DO YOU QUALIFY FOR A PHILIPS DREAMSTATION CPAP SETTLEMENT?
Lawsuits have been brought by individuals diagnosed with cancer, lung damage and other side effects caused by breathing the sound abatement foam particles. Find out if Philips DreamStation settlement benefits may be available.
CONTACT A LAWYER
Keith

December 6, 2022 at 6:52 pm

I used this sleep machine for four years before I received a replacement
"*" indicates required fields