Philips Evo Ventilator Recall Issued Due to Air Flow Malfunction Risk
June 16, 2023
By: Irvin Jackson
Nearly 60,000 Trilogy Evo, Garbin Evo, and Aeris EVO ventilators have been recalled by Philips, due to problems with an air flow sensor, which may cause users to experience low blood oxygen levels, known as hypoxemia, which can be life threatening.
The U.S. Food and Drug Administration (FDA) announced the Philips Evo ventilator recall on June 2, designating the action as a Class I recall, which means the agency considers the problem to carry risks of severe injury and death for patients.
Philips Breathing Machine Recalls
This announcement comes after the manufacturer previously issued a massive CPAP, BiPAP and Trilogy ventilator recall a few years ago, impacting millions of devices sold with a defective sound abatement foam, which is prone to break down and release toxic particles directly into the machine's air pathways.
As a result of the potential health risks from that CPAP foam, federal health officials indicated at that time that all consumers should immediately stop using the recalled machines, unless needed for life-sustaining therapy, and a widespread Philips repair and replacement program was launched to remove the PE-PUR foam from machines and substitute a silicone-based foam.
The manufacturer already faces thousands of Philips CPAP lawsuits brought by former users of machines recalled due to the defective sound abatement foam, including claims brought by users diagnosed with certain types of cancer, lung damage and other side effects from the small foam particles entering their mouth and lungs. However, this new Evo recall appears to involve problems that will result in immediately apparent injuries.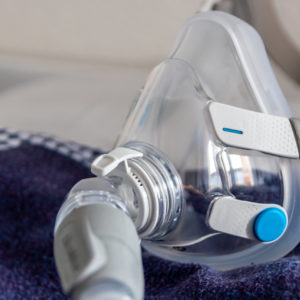 Philips CPAP Recall Lawsuit
According to the new recall notice, Philips Respironics, Inc. sent out an urgent medical device correction letter to customers at the beginning of May, indicating air flow sensor problems may not detect environmental debris building up in the devices and blocking the flow of air to patients.
"Environmental debris may accumulate on the internal machine flow sensor causing partial occlusion which may impact accurate delivery of pressure, volume, or flow," the recall notice indicates. "A malfunction caused by this issue can result in patient harm up to hypoxemia if not addressed by the care provider."
The FDA indicates Philips is still investigating the cause of the problem. In the meantime, the recall notice recommends using Philips-approved particulate filters to prevent most airborne debris from entering the devices, which should be replaced between patients and on a monthly basis. Use of the filter was previously deemed optional.
In addition, the recall notice recommends setting appropriate alarms based on the ventilation mode and checking proximal pressure and external flow sensor alarms. The notice also recommends doctors ensure ventilator patients have access to alternative ventilation equipment, like a back-up ventilator or manual resuscitator.
The recall affects more than 57,000 Trilogy Evo, Garbin Evo, and Aeris EVO ventilators with model numbers DS2110X11B, IN2110X15B, JP2110X16B, AU2110X15B, LA2110X15B, CA2110X12B, BR2110X18B, KR2110X15B, IA2110X15B, FP2110X10, FR2110X14B, ND2110X15B, IT2110X21B, ES2110X15B, DE2110X13B, BL2110X15B, GB2110X15B, EU2110X15B, EE2110X15B, LD2110X23B, and VT2110X24B.
Philips CPAP Recall Repair Problems
In September 2021, Philips announced a CPAP machine repair and replacement program, but the pace of repairs has been extremely slow and there have been some concerns about the safety of the alternative foam material the manufacturer is using, which may also release harmful chemicals directly into the machine's air pathways.
The FDA has criticized Philips handling of the recall, indicating that the company has not done enough to warn consumers about the health risks associated with continuing to use recalled CPAP machines.
In February, the FDA announced another Trilogy and Garbin Plus ventilator recall, warning that the silicone sound abatement foam used to replace the toxic PE-PUR foam in the ventilators may separate from its plastic backing due to failure of the adhesive used to hold it in place.
Earlier this month, the FDA reported it has received nearly 100,00 medical device reports involving problems with Philips CPAP, BiPAP and ventilator devices, including reports of nearly 400 deaths.
June 2023 Philips CPAP Lawsuit Update
There are currently more than 300 lawsuits against Philips already filed in the federal court system, with thousands of additional CPAP injury claims registered on a census established by the court to toll the statute of limitations.
Throughout 2023, the number of claims is expected to rapidly grow, both involving injuries diagnosed long before the recall, as well as new injuries that continue to be diagnosed months after users breathed the toxic particles released as the sound abatement foam degraded inside their machines.
Given common questions of fact and law raised in Philips CPAP lawsuits filed throughout the federal court system, all cases have been centralized before Senior U.S. District Judge Joy Flowers Conti in the Western District of Pennsylvania for coordinated discovery and pretrial proceedings, as part of a multidistrict litigation (MDL).
As part of the coordinated management of the litigation, Judge Conti has directed the parties to establish a bellwether process, where small groups of representative claims will be prepared for early trial dates if Philips CPAP settlements can not be reached to resolve large numbers of claims.
While the outcome of these early verdicts will not have any binding impact on other plaintiffs, the average Philips CPAP lawsuit payout amounts awarded by juries are likely to have a big influence on how much the manufacturer will pay to settle claims, to avoid each claim being remanded to different U.S. District Courts nationwide for separate trial dates in the future. However, a settlement agreement reached before then may make such trials unnecessary.
"*" indicates required fields