Philips Trilogy Evo Ventilator Recall Issued Over Air, Dust Contamination Risks
August 15, 2023
By: Irvin Jackson
Federal health regulators are warning about serious health risks linked to more than 70,000 Philips Trilogy Evo Ventilators, which have been recalled due to problems that may cause debris to the breathing tubes, resulting in potentially life-threatening injuries.
The Trilogy Evo ventilator recall was originally issued by the firm earlier this year, but on August 14 the U.S. Food and Drug Administration (FDA) announced it is giving the recall a Class I designation, after at least one death and two severe injuries have been linked to use of the device.
The class I designation indicates that the agency believes problems with the recalled Philips Trilogy Evo ventilators puts patients at risk of severe injury or death.
Philips Breathing Machine Recalls
This is the latest in a string of recent recalls of Philips breathing assistance devices, including ventilators, CPAP and BiPAP devices, which are widely across the U.S. and the world to treat sleep apnea and other conditions.
The problems started when the manufacturer issued a massive CPAP, BiPAP and Trilogy ventilator recall in July 2021, impacting millions of devices sold with a defective sound abatement foam, which is prone to break down and release toxic particles directly into the machine's air pathways.
As a result of the potential health risks from that CPAP foam, federal health officials indicated at that time that all consumers should immediately stop using the recalled machines, unless needed for life-sustaining therapy, and a widespread Philips repair and replacement program was launched to remove the PE-PUR foam from machines and substitute a silicone-based foam.
The manufacturer already faces thousands of Philips CPAP lawsuits brought by former users of machines recalled due to the defective sound abatement foam, including claims brought by users diagnosed with certain types of cancer, lung damage and other side effects from the small foam particles entering their mouth and lungs. However, this new Evo recall appears to involve problems that will result in immediately apparent injuries, due to failure of the device to provide needed ventilator therapy.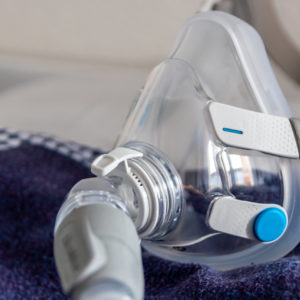 Philips CPAP Recall Lawsuit
According to the FDA notice, the recall impacts 73,000 Philips Respironics Trilogy Evo, Evo O2, EV300, and Evo Universal ventilators used in hospital and health care settings. In addition, the agency warns that some Trilogy EV300 and Trilogy Evo models may be in use by those requiring mechanical ventilation at home.
Design defects may allow dust and dirt from the surrounding environment to infiltrate the ventilators. This can result in a buildup of debris that blocks the air vents and prevents the ventilators from working, putting patients at risk of not receiving enough oxygen, facing a buildup of carbon dioxide or other gas pressure, which could result in serious injuries or death.
To date, Philips has received 542 reports specifically regarding this problem, including at least two injuries and one death.
In April, Philips sent customers and patients an Important Product Notice, providing instructions on how to prevent accumulation of debris over the machine's flow sensor, and how to identify the affected devices. However, now the FDA has decided that this notice constituted a Class I medical device recall.
The recalled ventilators were distributed between March 26, 2019 and March 22, 2023. The affected products can be identified by locating the part number on the bottom of the device. A full list of part numbers and serial numbers are included in the recall notice.
Customers or patients with questions can call Philips Respironics Customer Service at 1-800-345-6443 for home care customers, and 1-800-722-9377 for Hospital customers.
The FDA urges health care professionals and consumers who have experienced problems with the recalled ventilators to submit a report to the FDA MedWatch adverse event reporting program.
Philips Breathing Device Recalls and Problems
On top of its problem with the massive Philips CPAP recall and the resulting litigation, the manufacturer has been plagued with problems with the Trilogy series of ventilators in recent months.
In early June, another Philips Evo ventilator recall was issued in June for the exact same problem. No deaths or injuries were reported at the time of the recall.
The recalls come as the manufacturer still struggles to repair and replace devices linked to its previous recall over toxic foam.
In September 2021, Philips announced a CPAP machine repair and replacement program, but the pace of repairs has been extremely slow and there have been some concerns about the safety of the alternative foam material the manufacturer is using, which may also release harmful chemicals directly into the machine's air pathways.
The FDA has criticized Philips handling of the CPAP recall, indicating that the company has not done enough to warn consumers about the health risks associated with continuing to use recalled CPAP machines.
In February, the FDA announced another Trilogy and Garbin Plus ventilator recall, warning that the silicone sound abatement foam used to replace the toxic PE-PUR foam in the ventilators may separate from its plastic backing due to failure of the adhesive used to hold it in place.
In June, the FDA reported it has received nearly 100,00 medical device reports involving problems with Philips CPAP, BiPAP and ventilator devices, including reports of nearly 400 deaths.
August 2023 Philips CPAP Lawsuit Update
Given common questions of fact and law raised in Philips CPAP lawsuits filed throughout the federal court system, all cases have been centralized before Senior U.S. District Judge Joy Flowers Conti in the Western District of Pennsylvania for coordinated discovery and pretrial proceedings, as part of a multidistrict litigation (MDL).
As part of the coordinated management of the litigation, Judge Conti has directed the parties to establish a bellwether process, where small groups of representative claims will be prepared for early trial dates if Philips CPAP settlements can not be reached to resolve large numbers of claims.
While the outcome of these early verdicts will not have any binding impact on other plaintiffs, the average Philips CPAP lawsuit payout amounts awarded by juries are likely to have a big influence on how much the manufacturer will pay to settle claims, to avoid each claim being remanded to different U.S. District Courts nationwide for separate trial dates in the future. However, a Philips Dreamstation CPAP settlement agreement reached before then may make such trials unnecessary.
"*" indicates required fields