Monsanto Asks Appeals Court to Overturn $25M Roundup Verdict, As Second Federal Bellwether Trial Looms
December 17, 2019
By: Irvin Jackson
Bayer is asking a federal appeals court to overturn a $25 million verdict that resulted from the first federal Roundup trial earlier this year, indicating that approval of glyphosate by federal regulators should have prevented the case from going forward. However, while that appeal is being pursued, a steady stream of Roundup cases are expected to go before juries next year, including a second federal "bellwether" trial in February 2020.
There are currently more than 43,000 Roundup lawsuits being pursued by individuals throughout the U.S., each involving similar allegations that exposure to the controversial weedkiller resulted in a diagnosis of non-Hodgkins lymphoma or other cancers.
Given common questions of fact and law raised in claims filed in U.S. District Courts nationwide, the federal litigation over Roundup has been centralized in the Northern District of California, where U.S. District Judge Vince Chhabria has presided over coordinated discovery and a series of early bellwether trials designed to help the parties gauge how juries may respond to certain evidence and testimony that will be repeated throughout the cases.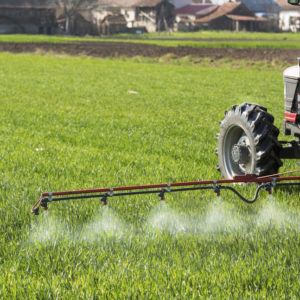 In March 2019, the first federal jury to hear evidence in a Roundup lawsuit determined that Monsanto should be required to pay $80 million in damages to Edwin Hardeman, who was diagnosed with non-Hodgkins lymphoma following regular use of the weedkiller around his home.
Following post-trial motions, Judge Chhabria later reduced the verdict to $25 million, which is being appealed by Monsanto and its parent company, Bayer.
In a brief (PDF) with the U.S. Court of Appeals for the Ninth Circuit on December 13, the manufacturer argues that the case never should have been permitted to go to trial, since the U.S. Environmental Protection Agency (EPA) has deemed glyphosate contained in Roundup to be safe and not a carcinogen.
Second Federal Roundup Trial Set To Begin February 2020
The filing comes as the federal court continues with plans to move ahead with a second bellwether trial, which is scheduled to begin in late February 2020, involving a Roundup case filed by Elaine Stevick, who was diagnosed with non-Hodgkin's lymphoma following use of Roundup in her herb garden for years.
On Monday, the parties met with Judge Chhabria for a case management conference, at which time the Court advised the parties that they will be provided similar amounts of time to present their cases to what was provided in the first bellwether trial, if not less. The trial is expected to be held every day, except Thursdays, which will be a "dark" day from trial.
As part of the coordinated pretrial proceedings in the federal litigation, Judge Chhabria has also previously ordered the parties to prepare two "waves" of Roundup cases originally filed in certain states for trial, which may be remanded later next year if Roundup settlements or another resolution is not reached in the litigation.
Bayer and Monsanto also face a number of state court cases set to go before juries in 2020, including claims in California and Missouri.
Over the past few months, the parties have been engaged in mediation efforts to discuss a potential resolution for the litigation. However, according to recent statements by the mediator presiding over the efforts, Ken Feinberg, the process is moving "slowly but steadily," and there has been no indication that an agreement will be reached in time to avoid rapidly approaching trial dates.
Feinberg has guided some of the largest mass-tort settlements in recent years, including funds to pay claims related to the BP oil spill, Volkswagen emissions scandal, General Motors ignition switch recall, September 11th Victim Compensation fund and others.
Analysts have predicted that any Roundup settlement would not only include compensation for current victims, but may also require the company to establish funds to address future claims, as consumers continue to be diagnosed with non-Hodgkins lymphoma following prior exposure to the weedkiller.
"*" indicates required fields