Parents Say Similac Formula Caused Necrotizing Enterocolitis in Newborn, Resulting in "Catastrophic Injuries"
September 21, 2023
By: Irvin Jackson
A California couple has filed a lawsuit against the manufacturers of Similac, alleging that the infant formula caused their new born to develop a devastating condition known as necrotizing enterocolitis (NEC), which led to the need for surgery to reconstruct his bowels and left him with life-long injuries.
The complaint (PDF) was brought by Modesta Garcia and Jose Dominguez, the parents of Anthony Dominguez, who the lawsuit indicates developed NEC after being fed Abbott Laboratories, Inc.'s Similac Special Care infant formula while still in the hospital after birth.
According to the lawsuit, Baby Anthony was born at 29 weeks gestation in February 2008, weighing only three pounds, 1 ounce. As a result of his prematurity and jaundice, the newborn was sent to the neonatal intensive care unit (NICU), and he was also later diagnosed with cerebral palsy.
Baby Anthony was at first fed breast milk, but after about two weeks he was put on Similac Special Care infant formula, which Abbott Laboratories specifically marketed for use among low birth weight and premature newborns. However, as a result of using the cow's milk-based formula, the parents indicate Similac formula caused necrotizing enterocolitis, his stomach became bloated, and doctors told Garcia and Dominguez that the child was "bleeding from his intestines."
The newborn first underwent a bowel resection, but then had to undergo bowel reconstruction surgery. Baby Anthony remained in NICU for three months to recover from what the lawsuit described as catastrophic injuries.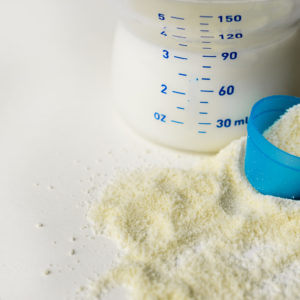 Necrotizing enterocolitis (NEC) primarily impacts premature babies, occurring when harmful bacteria breaches the walls of the intestines, causing portions of the tissue to become inflamed or die. The condition often results in the need for emergency surgery while the baby is still in the NICU, and many infants do not survive NEC.
Garcia and Dominguez's lawsuit indicates Abbott has implemented a systematic, powerful and misleading marketing campaign that was intended to deceive parents into believing that it's formula and fortifier products were safe substitutes for breast milk among premature babies, which is not the case.
"Abbott's marketing approach includes targeting the parents of preterm infants while they are still in the hospital with messages that Defendants' cow's milk formulas and fortifiers are necessary for the growth and development of their vulnerable children. Often these tactics implicitly discourage mothers from breastfeeding, which reduces the mother's supply of breast milk," their lawsuit states. "None of Defendants' marketing materials, including their promotional websites, reference the science showing how significantly their products increase the risk of NEC."
The couple now joins other families of preterm infants nationwide who are pursuing a Similac necrotizing enterocolitis lawsuit against Abbott, with a number of similar claims also being pursued against Mead Johnson over problems linked to their competing cow's milk infant formula products, marketed under the brand name Enfamil. The claims allege that both companies placed their desire for profits ahead of the safety of babies, and that marketing claims have driven many families away from safer breastfeeding or donor milk alternatives.
September 2023 Similac NEC Lawsuit Update
Baby Anthony's case will be consolidated with other Similac NEC lawsuits and Enfamil NEC lawsuits brought throughout the federal court system, which are currently centralized as part of a baby formula MDL (multidistrict litigation) before U.S. District Judge Rebecca R. Pallmeyer in the Northern District of Illinois, since each of the claims brought against the makers of the cow's milk formula products raise similar questions of fact and law.
As part of the coordinated management of the litigation, Judge Pallmeyer has established a "bellwether" program, where a group of 12 NEC lawsuits brought against the two infant formula manufacturers are going through case-specific discovery, and will be prepared for a series of early trial dates, which are designed to help gauge how juries will respond to certain evidence and testimony that will be repeated throughout the litigation.
Although the outcome of these early bellwether trials will not have any binding impact on other claims, they are expected to have a substantial impact on any baby formula NEC injury settlements the manufacturers may offer to avoid the need for each individual case to be remanded back to U.S. District Courts nationwide for separate trial dates in the future.
"*" indicates required fields