Whistleblower Warned of Similac Manufacturing Problems in February 2021, CNN Reports
June 10, 2022
By: Irvin Jackson
Days after federal regulators allowed Abbott Laboratories to resume baby formula production at a Michigan facility where Similac manufacturing problems caused widespread illnesses and infections among infants nationwide, multiple media reports indicate that a whistleblower raised concerns about practices at the plant more than a year before an actual recall was announced.
Last week, reports emerged that suggest a former Abbott employee filed a complaint with the U.S. Department of Labor's Occupational Safety and Health Administration (OSHA) in February 2021, indicating that she had seen records falsified at the Michigan facility on numerous occasions before she was fired in the summer of 2020. The employee has reportedly also filed a discrimination lawsuit against the company.
Abbott Laboratories first announced a baby formula recall on February 17, impacting various Similac, Alimentum and EleCare powdered formula products that were linked to dozens of illnesses nationwide, including at least two infant deaths. At that time, the manufacturer acknowledged that baby formula produced at the Michigan facility was distributed with Cronobacter sakazakiiis or Salmonella Newport bacteria.
Similac Recall Lawsuits
Was your child diagnosed with salmonella, cronobacter or another infection after being fed Similac, Alimentum or EleCare formula?
CONTACT A LAWYER
Following the recall announcement, FDA investigators found multiple deficiencies and problems found at the Similac manufacturing facility, including leaks in the roof that allowed water to enter and sit stagnant on the floor and on production equipment. This is suspected to have contributed to the outbreak of pathogens that caused infant illnesses and deaths after being fed Similac, Alimentum and EleCare formula products.
According to allegations raised in a Similac whistleblower lawsuit uncovered by U.S. Representative Rosa DeLauro of Connecticut, the tainted baby formula products were not recalled from the market for months after management discovered problems with the integrity of the packaging, which should have led to the products being removed from stores.
Abbott claims the complaint is the result of an employee disgruntled with being fired for serious safety violations. However, the FDA Commissioner, Robert Califf, confirmed at a recent Congressional hearing that FDA inspectors found a facility rife with problems that should have been fixed, and said decisions were not made in the best interest of the infant consumers of Abbott's products.
"Insanitary conditions of this kind are unacceptable in all food manufacturing facilities, but especially in areas producing dry powdered formulas that serve as the sole source of nutrition for infants," Califf said in his testimony. "Finding pathogens in finished product during routine testing also generally indicates a potentially serious loss of sanitary process control during manufacturing. FDA would expect any manufacturer with a robust quality assurance program to identify and quickly take corrective action when such conditions are present."
Following a consent decree with the Department of Justice, production at the plant recommenced on June 4, in what some hope is the beginning of the end of an infant formula shortage which has sent parents, stores and the U.S. government scrambling to meet the nutritional needs of its most vulnerable citizens.
Abbott faces a growing number of Similac recall lawsuits from parents who say their children were sickened after consuming the tainted formula.
Similac & Enfamil Baby Formula Health Risks
In addition to concerns about baby formula shortages and recent Similac manufacturing problems, Abbott is also facing a growing number of NEC lawsuits that are now being pursued by families of premature babies who developed necrotizing enterocolitis (NEC) after being fed the cow's milk products while still in the NICU.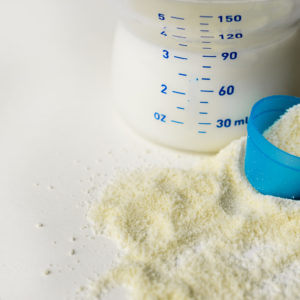 NEC is a serious health condition that primarily impacts preterm infants, causing intestinal tissues to become inflamed and die. If left untreated, it can cause dangerous perforations in the intestines, which allow bacteria to leak into the abdomen or infiltrate the bloodstream. This can lead to life-threatening infections, narrowing of the intestines, short bowel syndrome, developmental delays and a failure to thrive.
A number of studies published over the past three decades have highlighted the link between NEC and cow's milk formula like Similac and Enfamil, yet manufacturers have continued to market and promote versions of their products specifically for use by premature infants.
According to allegations raised in hundreds of Similac lawsuits and Enfamil lawsuits brought by families of babies who developed NEC, many of those premature infants may have avoided the condition if the manufacturers hadn't provided false and misleading information to parents and the medical community, which diminished the importance of breast feeding or using human donor milk.
"*" indicates required fields