Sleep Apnea Patients Need At Least 4 Hours of CPAP Use Per Day to Reap Benefits: Study
October 10, 2023
By: Irvin Jackson
New research suggests that individuals with obstructive sleep apnea need at least four hours of continuous positive airway pressure (CPAP) per day to lower their risk of heart attacks, cardiac arrest, strokes, and similar major cardiovascular complications.
In findings published last week in the Journal of the American Medical Association (JAMA), Spanish researchers reviewed data from three randomized clinical trials involving 4,186 patients with obstructive sleep apnea (OSA), who had a history of established cardiovascular disease. They looked for the effects of CPAP treatment on the risk of recurrent major adverse cardiac and cerebrovascular events (MACCEs).
Researchers found that patients who adhered to CPAP use for four hours per day or more saw about a 30% decreased risk of MACCEs. There was no difference among those who did not use CPAP devices at all, or who had poor adherence to CPAP use, averaging less than four hours per day.
"Patients with established cardiovascular disease and OSA who used CPAP for 4 or more hours per day had a significantly lower risk of MACCEs than those who used CPAP less than 4 hours per day," the researchers concluded. "Adherence to CPAP was associated with a reduced MACCE recurrence risk, suggesting that treatment adherence is a key factor in secondary cardiovascular prevention in patients with OSA."
Philips CPAP Recall Left Millions Without Safe Sleep Apnea Machine
The findings come amid continuing concerns about problems with a Philips CPAP recall issued in July 2021, which impacted millions of devices that contained a toxic sound abatement foam that was found to degrade and release cancer-causing particles directly into the machine's air pathways, resulting in shortages of sleep apnea machines.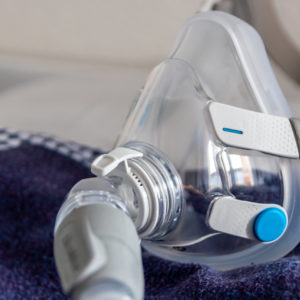 Philips CPAP Recall Lawsuit
Due to the serious health issues from the Philips CPAP foam, consumers were told to immediately stop using their recalled machines over two years ago, unless needed for life supporting treatment. However, the Philips CPAP repair and replacement program has been slow to provide new devices to users.
Just last week, the FDA issued an update calling for additional Philips CPAP testing, to determine the specific health risks posed by particles and volatile organic compounds (VOCs) emitted as the foam degrades.
The federal regulators have been extremely critical of Philips' handling of the recall, at first warning that the company's Philips CPAP recall notifications had been inadequate, and that the company's CPAP repair program has been slow to get much-needed breathing assistance machines back to the consumers who need them.
In April 2023, nearly two years after the recall, the FDA indicated the company claims it has shipped 2,460,000 new replacement devices and repair kits. However, the agency warned that number is deceptive to consumers still waiting on their replacement devices.
Tens of thousands former users are now pursuing Philips CPAP lawsuits against the manufacturer, each involving allegations that regular use of the machines resulted in various cancers, respiratory illnesses, lung disease and other complications. Many users are also alleging worsening of underlying conditions caused by inability to continue their CPAP therapy due to the recall and product shortages.
In September, Philips announced it will pay a minimum of $445 million in a CPAP recall class action settlement to individuals who bought, rented or leased one of the impacted devices, and another $34 million to health insurance companies and others who paid to reimburse users to replace the machines. However, the settlement does not address any of the liability the company faces for injuries and deaths linked to the CPAP machines.
"*" indicates required fields