$110M Talcum Powder Cancer Verdict Upheld For Out-of-State Plaintiff In Missouri Court
December 01, 2017
By: Irvin Jackson
A Missouri judge has upheld a $110 million verdict against Johnson & Johnson in a talcum powder lawsuit, determining that a recent Supreme Court ruling does not prevent the state court jury from awarding damages for failing to warn a non-resident about the risk of ovarian cancer. 
Judge Rex Burlison issued an opinion (PDF) on November 29 indicating that Lois Slemp had sufficient standing to pursue her claim against Johnson & Johnson in Missouri state court, even though she does not reside in the state and the company is not headquartered there.
The verdict was one of a series of massive verdict returned in recent months against Johnson & Johnson, for failing to warn women about the potential about the potential ovarian cancer side effects with talcum powder use for feminine hygiene purposes. Slemp was awarded $110 million in May 2017, including $5.4 million in compensatory damages and $105 million in punitive damages, which were designed to punish the manufacturer for recklessly disregarding the health and safety of consumers.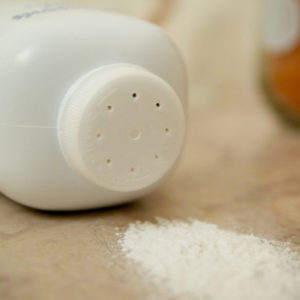 Johnson & Johnson currently faces more than 6,000 Baby Powder lawsuits and Shower-to-Shower lawsuits, alleging that the company has withheld information from consumers for years about the link between talc contained in their products, and a risk of ovarian cancer when applied on or around the genitals.
While the vast majority of the cases were previously pending in Missouri state court, the talcum powder litigation has largely been moved to the federal court system, following a recent Supreme Court ruling, which raised questions about whether manufacturers can be held liable in state court systems when neither the plaintiff or manufacturer are residents.
In June 2017, in a case involving Bristol-Myers Squibb's blood thinner Plavix, the U.S. Supreme Court determined that the drug maker could not be sued in California state court by an out-of-state resident, since the company is incorporated in Delaware and headquartered in New York.
In the wake of that decision, a mistrial was granted in a Missouri state court talcum powder trial that was under way at the time, and Johnson & Johnson has successful removed thousands of cases from Missouri state court to the federal court system, where the cases are consolidated as part of a multidistrict litigation (MDL), which is centralized before U.S. District Judge Freda L. Wolfson, in the District of New Jersey.
Although the recent Supreme Court ruling was expected to largely end the Missouri state court litigation over talcum powder, and result in the reversal of several multi-million dollar damage awards returned over the past few years, Judge Burlison's ruling may signal that the state court litigation may survive since there is a substantial link between the manufacturer and the state of Missouri.
"Plaintiffs allege that Defendants engaged in relevant acts within the state of Missouri, including enlisting a Missouri company, PTI Union, LLC, to manufacture, mislabel, and package Johnson's Baby Powder and Shower to Shower, the very products which caused injury to the Plaintiffs," Judge Burlison ruled. "The products were manufactured in Union, Missouri, and at another plant in Royston, Georgia, which was also under the control of the Missouri company."
The ruling, in addition to a number of recent state court verdicts, may spell trouble for the manufacturer, and staggering liability.
In August, a California jury ordered Johnson & Johnson to pay $417 million in damages as part of an ovarian cancer lawsuit filed by Eva Echeverria, including compensatory damages of about $70 million and $347 million in punitive damages. However, that verdict was later overturned on appeal.
The California verdict came after other large damage awards in Missouri state court, where separate juries found that Johnson & Johnson should be forced to pay $70 million in November 2016, $55 million in May 2016 and $72 million in February 2016. However, the latter ruling was also overturned last month on the basis of jurisdictional issues following the recent Supreme Court ruling, and the others face similar challenges, which may require retrial in the federal court system.
Some analysts have suggested that more big talcum powder damage awards are likely, due to the signs that juries find Johnson & Johnson's trial defense lacking in credibility.
"*" indicates required fields