Recall Issued for Brut and Sure Deodorants Due To Risk of Cancer0Causing Chemicals
February 21, 2022
By: Irvin Jackson
Brut and Sure brands of deodorant are the latest products to be recalled due to the presence of benzene, which has been linked to an increased risk of cancer.
The FDA announced a Brut and Sure recall on February 16, after TCP Hot Acquisition LLC, doing business as HRB Brands determined the aerosol deodorant sprays contained unexpected levels of benzene.
Benzene is an industrial chemical associated with the development of several fatal forms of cancer, leukemia and other conditions, such as AML, Chronic Myelogenous Leukemia (CML), Acute Lymphocytic Leukemia (ALL), Chronic Lymphocytic Leukemia (CLL), Hairy Cell Leukemia (HCL), Non-Hodgkin's Lymphoma, Multiple Myeloma, Myelodysplastic Syndrome (MDL), Myelofibrosis and Myeloid Metaplasia, Aplastic Anemia and Thrombocytopenic Purpura.
The FDA categorizes benzene as a Class I Solvent, which should not be used in the making of drug products because of its toxicity. However, if a product must contain benzene, it should be limited to 2 parts per million (ppm).
The recall affects Brut Classic Antiperspirant Aerosol sold in 4oz cans with UPC 00827755070085; Brut Classic Antiperspirant Aerosol sold in 6oz cans with UPC 00827755070108; Brut Classic Deodorant Aerosol sold in 154g cans with UPC 00827755070177; Brut Classic Deodorant Aerosol sold in 10oz cans with UPC 00827755070047; Sure Regular Antiperspirant Aerosol sold in 6oz cans with UPC 00883484002025; and Sure Unscented Antiperspirant Aerosol sold in 6oz cans with UPC 00883484002278. The recall affects all lot numbers with expiration dates on or before August 2023.
The recall comes after similar problems have been linked to other spray deodorant and sunscreen products, which have been found to contain dangerous levels of benzene.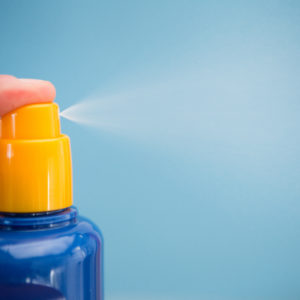 Procter & Gamble issued a massive deodorant recall in November, impacting nearly two dozen different brands of sprays that were found to contain high levels of benzene, including Old Spice, Secret, Suave, Tag and others.
The deodorant benzene problems followed the discovery of similar chemicals in many sunscreen spray products earlier this year, which led to a number of consumers filing sunscreen cancer lawsuits and class action claims against Johnson & Johnson, as well as other manufacturers.
In early November, the independent testing pharmacy Valisure released a report that found high levels of benzene in Old Spice, Secret, Suave, and Tag deodorants and body sprays, resulting in a citizen's petition that calls for the FDA to recall the affected products. Valisure has done a number of independent testing studies on various aerosol spray products, which led to the recalls and new concerns over how prevalent benzene is in aerosol spray products.
Johnson & Johnson issued a Neutrogena and Aveeno sunscreen spray recall in July 2021, after confirming the known human carcinogens was present in its products. Since then, a number of similar class action complaints have also been filed in different U.S. District Courts nationwide, each raising similar allegations that Johnson & Johnson endangered consumers' health by not warning them of the presence of benzene in brands of Neutrogena and Aveeno spray sunscreen, which could increase their risk of cancer.
Consumers with questions about this latest Brut and Sure deodorant recall can call TCP HOT Acquisition LLC at 1-866-615-0976. They can also visit http://www.brutsurerecall2022.com/ to request a refund or for additional information.
Richard

April 12, 2022 at 8:35 pm

What is taking so long for my reimbursement? I've used Brut since high school and I'm 68 so I'm hoping that isn't affecting any of my many body part/problems including Prostate cancer, peeing my pants everyday, etc, etc....Let's get on it! Rich BB
"*" indicates required fields