Car Manufacturers Still Charge Extra for Life-Saving "Blind Spot" Technology: Report
August 28, 2023
By: Katherine McDaniel
Despite significant increases in fatal car accidents involving pedestrians in recent years, an analysis conducted by Consumer Reports highlights how many automakers continue to charge substantially more to have their vehicles equipped with blind-spot technology, which could save thousands of lives if it were included on all SUVs, pickup trucks, minivans and other larger vehicles.
Consumer Reports released the Blind Spot Warning Analysis on August 24, detailing the extra costs consumers are forced to pay to have blind spot warning (BSW) technology, which has slowed adoption of the feature and made U.S. roadways more dangerous for pedestrians than they need to be.
It is well established that the blind-spot monitoring technology reduces the risk of serious injuries or death, yet it remains an optional feature in several top-selling vehicle models, with car manufacturers requiring an average of $1,600 more for vehicles that include the warnings when a person or object is in a driver's blind spot.
The report analyzed 14 of the top-selling passenger vehicles over 4,000 pounds sold in 2022, including SUV's, minivans, and pickup trucks. These larger vehicles have become increasingly popular in recent years, but pose substantially greater risks for pedestrians, since they have bigger blind spots and are much heavier in weight. As a result, Consumer Reports points out that pedestrians hit by these larger vehicles face a 47% greater risk of suffering fatal injuries, compared to those who are struck by smaller vehicles.
Consumer Reports attributed this increased risk to the fact that larger vehicles have larger blind spot areas, and do not perform as efficiently during emergency handling and braking system testing compared to smaller vehicles, making it more difficult to avoid accidents. Therefore, it is especially important for manufacturers to include available safety technology that may reduce these risks.
Blind Spot Warning Technology
BSW technology assists drivers in monitoring and detecting any objects or obstacles the driver may not notice in areas that are difficult for them to see while operating the vehicle, known as blind spots. Certain systems can also provide drivers with an additional warning when they activate their turn signal if an object or person is detected in any blind spot areas.
The monitoring and warning systems have improved dramatically over the years, and Consumer Reports indicates that all vehicle owners would benefit greatly from BSW technology being included in new vehicles. The technology can reduce lane-change accident injuries by at least 23%, according to Consumer Reports.
In addition, at least 56% of consumers with the technology report the feature helped prevent an accident, according to prior findings by the Insurance Institute for Highway Safety (IIHS).
Despite the increased safety threats posed by heavier vehicles, Consumer Reports found that only three out of the 14 top-selling passenger vehicle models sold in 2022 included BSW technology as a standard feature on the lowest trim option. None of the five top-selling models offered the system in their lowest trim option as a standard safety feature. In addition, five of the top-selling passenger vehicle models do not offer the BSW option as an add-on feature at all.
Even though the feature costs an overall average of about $1,600, Consumer Reports indicates manufacturers of at least three of the five top selling vehicles say adding the technology as a standard feature would increase the price of the vehicles by more than $20,000.
Consumer Reports suggests that car manufacturers do not offer the BSW technology because many already add a number of hidden fees during complex car buying process to increase their profitability. Auto manufacturers also tend to charge consumers more for safety technologies, aesthetic features, and convenience packages than what they originally advertised.
Calls for Blind Spot Technology to be Standard Issue
As vehicles continue to increase in size and weight, Consumer Reports urges automakers to prioritize including blind spot warning technology as a standard features on all vehicles, especially on larger and heavier vehicles.
The feature can be crucial in preventing serious injuries or death sustained in a car accident event, Consumer Reports determined. The organization believes the technology should be available to all consumers, and not considered a luxury feature costing consumers thousands of dollars in additional expenses.
The researchers also urge manufacturers to make the car buying process more transparent and fair to consumers.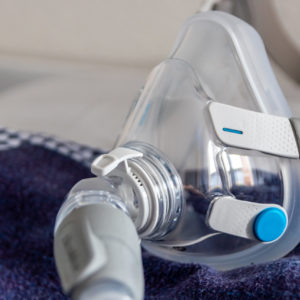 Did You Know?
Millions of Philips CPAP Machines Recalled
Philips DreamStation, CPAP and BiPAP machines sold in recent years may pose a risk of cancer, lung damage and other injuries.
Learn More
The U.S. National Highway Traffic Safety Administration (NHTSA) has proposed new rules requiring technological safety improvements, in an ongoing effort to reduce serious injuries and fatalities caused in auto accidents.
The NHTSA proposed a new rule on April 18, which includes a requirement that tractor trailers and other commercial trucks be equipped with a side impact guard that would prevent passenger vehicles from being run over and crushed by the truck or trailer. The proposal followed a rule finalized in July 2022, which required rear impact guards be implemented on all trailers and semi-trailers.
The agency also prepared new regulations they plan to introduce for self-driving vehicles, after they were linked to hundreds of auto accidents, despite manufacturers' claims that the autopilot and driver-assistance technologies were safe and reliable. The rules would remove the current maximum number of vehicles allowed to use the advanced driving systems.
New regulations were also introduced by the NHTSA on August 21, which would require automakers to equip vehicles with seat belt warning lights and alarms in both the front and rear-seat passenger seats. The proposed rules would require the driver receive a visual warning to alert them of an unbelted passenger in the vehicle until the seat belt has been fastened, and would also require a mandatory 30-second interval audio-visual warning that alarms if the seat belts are unfastened while the vehicle is in motion
"*" indicates required fields