Potentially Dangerous Eye Products Were Sold By Walgreens, CVS, Others Retailers, Per FDA Warning Letters
September 13, 2023
By: Katherine McDaniel
Federal regulators have issued warning letters to Walgreens, CVS, and other sellers of unapproved eye products that may be harmful to consumers.
The U.S. Food and Drug Administration (FDA) issued a press release on Tuesday, announcing that letters were sent to eight different companies.
Walgreens, CVS, Boiron, DR Vitamin Solutions, OcluMed, Similasan and TRP Company were each warned about several violations, including the manufacturing or distributing of unapproved eye products, illegally marketing products to treat serious eye conditions that were never approved, distributing products that contained dangerous ingredients, and selling contaminated products.
FDA officials warn that the unapproved and illegally marketed products are hazardous to consumers, as they are applied directly into the eyes and may get past the body's natural defense system, which can result in serious or permanent eye conditions or tissue damage.
Unapproved Eye Drops for Medical Treatment
The warnings cover a range of violations, including the use of questionable ingredients, and advertising to treat medical conditions without FDA approval.
The FDA cited Walgreen and CVS for using silver, also known as silver sulphate or argentum, as a preservative in their eye products, which may cause irreversible discoloration to the eyes or skin, or decrease night vision. Walgreen's Allergy Eye Drops, Walgreens Stye Eye Drops, Walgreens Pink Eye Drops, and CVS Health Pink Eye Relief Drops also claimed to relieve allergies, treat sties and pink eye without prior FDA review or approval.
DR Vitamin Solutions manufactured Vision Clarity Eye Drops, Life Extension Brite Eyes III, Can-C Eye Drops, and Longevity Science Visual Ocuity products that were advertised to treat cataracts without prior review and approval, the agency indicates. They were also found to contain N-Acetyl-Carnosine (NAC), which is not approved to treat the condition.
Boiron, Inc. Optique 1 Eye Drops, OcluMed, LLC OcluMed Eye Drops, and Natural Ophthalmics, Inc. Women's Tear Stimulation Dry Eye Drops, Allergy Desensitization Eye Drops, Ortho-K Thin (Daytime) Eye Drops, Ortho-K Thick (Night) Eye Drops, Tear Stimulation Forté Dry Eye Drops, and Cataract Eye Drops with Cineraria illegally claimed to treat allergies, eye irritation, and cataracts, according to the warning letters.
The FDA previously warned TRP Company, Inc in September 2022 that Dryness Relief, Pink Eye Relief, Allergy Eyes Relief, Red Eye Relief, Eye Strain Relief, Eye Lid Relief, Aging Eye Relief, Blur Relief, Floaters Relief, Twitching Relief, and Stye Relief products were not reviewed or approved to treat several conditions. After review, the FDA found additional variations of unapproved Pink Eye Relief products listed on its website, including Pink Eye Relief PF and Pink Eye Relief PM.
Similasan Dry Eye Relief, Similasan Complete Eye Relief, Similasan Allergy Eye Relief, Similasan Kids Allergy Eye Relief, Similasan Red Eye Relief, Similasan Pink Eye Relief, Similasan Kids Pink Eye Relief, Similasan Aging Eye Relief, Similasan Computer Eye Relief, Similasan Stye Eye Relief, Similasan Pink Eye Nighttime Gel, and Similasan Dry Eye Nighttime Gel products manufactured by Similasan AG were unapproved. In addition, some of those products were found to contain lethal levels of glycerin and sorbitol solution, or were contaminated with bacteria.
The FDA requested the companies respond to their letter within 15 days, detailing what corrective actions they will take.
Recent Eye Drop Recalls
The warning letters follow the recent Artificial Tears eye drop recall issued in February due to contamination, which has been linked to at least 81 bacterial eye infections. Four people died because of the infection, multiple individuals lost their vision, and four others had to have their eye ball removed. The eye drops were contaminated with antibiotic resistant bacteria due to poor manufacturing procedures.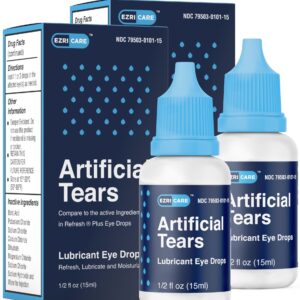 A similar Dr. Bernes and LightEyez MSM eye drops recall was issued in August due to the risk of contamination. The products were found to contain several bacterial and fungal strains, and also were found to contain the active ingredient methylsulfonylmethane (MSM), an unapproved and illegally marketed ingredient.
Artificial Tears Eye Drop Lawsuits
According to a recent report by the U.S. Centers for Disease Control and Prevention (CDC), the recalled Artificial Tears eye drops have now been linked to 81 cases of bacterial contamination, including multiple reports of vision loss, four reports of consumers requiring removal of an eyeball, and four reports of deaths.
Lawyers are actively investigating potential eye drop infection lawsuits against the manufacturers and distributors of recalled EzriCare and Delsam brand eye drops, pursuing claims involving multiple injuries and side effects caused by the contamination, including;
Eye Infection
Partial Blindness
Permanent Blindness
Bloodstream Infection
Other injuries caused by the eye drops
As the news about the recalled EzriCare and Delsam Pharma eye drops continues to spread, it is expected that the number of Pseudomonas aeruginosa infection lawsuits over the recalled eye drops will be filed in the coming months.
"*" indicates required fields