New Study Finds Eye-Tracking Technology Could Help Diagnose Autism Earlier in Childhood
September 06, 2023
By: Irvin Jackson
Children with autism spectrum disorders could be diagnosed before three years old by analyzing their eye movements during social interactions, according to the findings of a new study, which could help lead to earlier interventions and more effective treatments for autistic children.
Researchers from Emory University say eye-tracking technology can be paired with an understanding of social visual engagement to diagnose autism, which affects about one in every 36 children in the U.S.
Autism eye-tracking tests could return a diagnostic result in less than 30 minutes, according to a report published this week in the medical journal JAMA Network Open.
Increasing Autism Diagnosis Rates
Autism rates in children have increased in recent years. In 2018, 1-in-44 children were diagnosed with autism. But 2020 data from the Centers for Disease Control and Prevention (CDC) indicate that the rate has since increased to 1-in-36 children.
Emerging research points to a number of potential causes for the increasing rates of autism among U.S. children, ranging from heavy metal-tainted baby food–laden with arsenic, lead, and mercury–to Tylenol use during pregnancy.
In 2019, researchers from Johns Hopkins University published a study that found an increased risk of ADHD and autism from acetaminophen among children exposed in utero to the active ingredient found in Tylenol and other pain medications. A separate European study published in 2021 echoed those results, warning Tylenol during pregnancy increased a child's risk of ASD by 19%.
In response to a growing number of studies highlighting the risks associated with exposure to acetaminophen during pregnancy, a number of families are now pursuing Tylenol autism lawsuits, alleging manufacturers have filed to warn about the risk while promoting use of the pain medication as safe for pregnant women.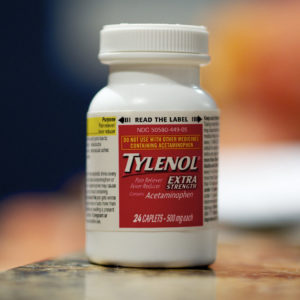 Eye-Tracking Technology and Autism Diagnosis
In this latest study, researchers conducted two double-blind studies involving about 1,089 children from ages 16 to 30 months. Some were tested for autism using traditional, standard protocols, and others were tested using eye tracking technology to assess their social visual engagement.
The first study involved 719 children. Then, researchers conducted a replication study involving 370 children to confirm their results.
According to their findings, eye tracking technology was about 80% effective in diagnosing a child with autism accurately. The researchers determined that objective eye-tracking based measurements of social visual engagement were able to accurately diagnose autism, and assess children's individual levels of social disability, verbal abilities, and nonverbal abilities.
"The goal of diagnosis in autism is to facilitate timely and targeted support to help a child and family as needed. To that end, there may be an important role for new tools and objective biomarkers that can accurately and efficiently aid in diagnosing children as well as aid in quantifying individual strengths and vulnerabilities," the researchers wrote. "Such tools could enhance health care system capacity and help facilitate timely access to individually appropriate services."
The researchers noted that data from an eye-tracking test could be analyzed using Cloud technology in less than 30 minutes, which could alleviate long waits for children to meet with experts for traditional autism diagnosis. The researchers say those long waits have reached "crisis" levels in recent years, leading to delayed diagnosis that often come without comprehensive evaluations of the child's abilities.
"In 2 diagnostic studies of children aged 16 to 30 months with and without autism, objective measurements of social visual engagement were able to quantify diagnostic status and assess individual levels of social disability, verbal ability, and nonverbal ability," the researchers concluded. "These findings suggest that objective measurements of social visual engagement can be used to aid in autism diagnosis and assessment."
"*" indicates required fields