Recalled Artificial Tears Caused Blindness in One Eye For Florida Firefighter: Lawsuit
February 27, 2023
By: Russell Maas
A Florida fire department captain has filed a lawsuit against the manufacturers and distributors of recalled EzriCare Artificial Tears, claiming the contaminated eye drops caused him to develop an infection that resulted in complete vision loss in one eye.
The complaint (PDF) was filed by Adam Disarro in the U.S. District Court Middle District of Florida on February 23, indicating that he suffers partial blindness and an uncertain future of medical complications as a result of a Pseudomonas Aeruginosa infection caused by recalled Artificial Tears, which have been linked to dozens of similar reports in recent months.
The claim is one of growing number of Artificial Tears lawsuits filed in the wake of an EzriCare and Delsam Pharma eye drops recall first announced in early February, each involving similar claimms that the eye drops were marketed as safe, even though the manufacturers and distributors failed to perform proper microbial testing, which allowed contaminated eye drops to be distributed throughout the United States in recent months.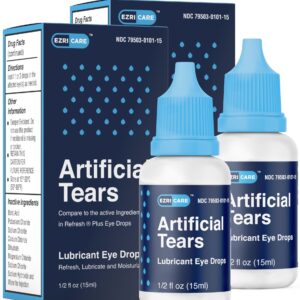 Eye Drops Vision Loss Lawsuit
Disarro indicates he purchased a two-pack of EzriCare Artificial Tears through Amazon.com on May 12, 2022, and again on September 12, 2022, and began using the eye drops almost immediately to assist with his dry eye condition.
However, shortly after Disarro began using the EzriCare eye drops he began to experience irritation, swelling, extreme pain and discomfort in the eyes and skull, sensitivity to light and blurred vision. The pain ultimately caused him to seek emergency medical treatment at a Miami, Florida hospital where an eye specialist obtained cultures and confirmed his complications were the result of an active Pseudomonas Aeruginosa infection.
After weeks of suffering, Disarro underwent light therapy in conjunction with a very aggressive treatment of fortified eye drops to beat the eye infection, however, Disarro was ultimately left with disfigurement and blindness to his left eye as a result of the recalled eye drops.
The complaint states that three of the four bottles of Ezricare eye drops Disarro purchased through Amazon were tested at the Bascom-Palmer Eye Institute laboratory, which confirmed all three bottles contained a heavy growth of Pseudomonas Aeruginosa bacteria.
Disarro's lawsuit claims the manufacturers and distributors have a duty to ensure the Artificial Tears products are safe for human use, which the lawsuit claims they negligently failed to uphold. The complaint also claims the defendants engaged in deceptive and unfair business practices which led to Disarro's injuries and damages, which include pain and suffering, mental anguish, emotional distress, physical impairment, physical disfigurement, loss of enjoyment of life, lost wages and lost earning capacity.
Artificial Tears Eye Drop Recall Update
The first Artificial Tears recall was announced by the U.S. Food and Drug Administration (FDA) on February 2, 2023, impacting the following UPC and NDC codes;
Ezricare (blue box): NDC 79503-0101-15 with UPC 3 79503 10115 7, and
Delsam Pharma (white box): NDC 72570-121-15 with UPC -72570-0121-15
However, on February 22, the FDA recommended that a Delsam Pharma Artificial Eye Ointment recall be issued as well, and the manufacturer agreed just a day later.
The FDA's recommendation to recall Delsam Pharma Artificial Eye Ointment was made following a determination that the products may be contaminated with the same bacteria in Artificial Tears eye drops, which were not put through microbial testing to confirm they were bacteria-free.
 Lawyers Are Reviewing Artificial Tears Infection Lawsuits Nationwide
At least a half dozen Pseudomonas Aeruginosa infection lawsuits and eye drops class action lawsuits have been filed on behalf of individuals exposed to the bacteria, and it is expected that the number of confirmed problems linked to the products will continue to grow significantly in the coming weeks and months.
Lawyers are actively reviewing potential eye drop infection lawsuits against the manufacturers and distributors of EzriCare and Delsam Pharma's eye drops for multiple injuries and side effects caused by the contamination, including;
Eye Infection
Partial Blindness
Permanent Blindness
Bloodstream Infection
Other injuries caused by the eye drops
Did You Experience Problems From Recalled Artificial Tears Eye Drops
Submit information about your potential claim to review with a lawyer whether you or a loved one may be entitled to an Artificial Tears lawsuit payout.
FIND OUT IF YOU QUALIFY
"*" indicates required fields