Pesticide Exposure May Cause Diffuse Large B-cell Lymphoma Treatments To Fail: Study
May 03, 2019
By: Irvin Jackson
French researchers say they have discovered a link between exposure to pesticides and difficulties to fighting off some forms of cancer, including large B-cell lymphoma.
In a study published last month in the medical journal JAMA Network Open, researchers from Montpellier University Hospital report that occupational exposure to pesticides appears to negatively impact the treatment of diffuse large B-cell lymphoma (DLBCL), which is a sub-type of non-Hodgkins lymphoma.
Researchers conducted a cohort study of 244 patients treated for DLBCL, and found that 67 of those were exposed to pesticides, with 38 of that 67 experiencing exposure through agricultural occupations, like farmers and groundskeepers.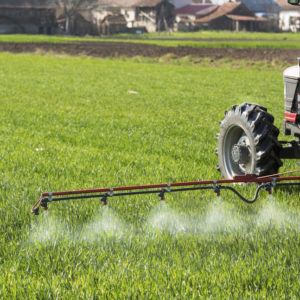 According to the findings, the treatment failure rate for diffuse large B-cell lymphoma was significantly higher among those who experienced occupational pesticide exposure.
The report comes amid growing concerns about the link between non-Hodgkins lymphoma and the weedkiller Roundup, which contains the active ingredient glyphosate that has been identified as human carcinogens in recent years.
"Three agents have been associated with NHL and classified as carcinogenic by the International Agency for Research on Cancer: glyphosate, malathion, and diazinon," the researchers wrote. "Fungicides, insecticides, or herbicides are widely used for farming; their cumulated toxic effects, called the cocktail effect, are not well characterized and may induce specific carcinogenic pathways."
According to the findings, occupational exposure to pesticides doubled the risk of cancer treatment failure. Occupationally exposed individuals had a 22.4% treatment failure rate, compared to 11.3% among those who were not occupationally exposed to pesticides.
Exposure also resulted in a lower rate of two-year event-free survival and overall survival.
Roundup Litigation
Bayer's Monsanto unit currently faces more than 13,500 product liability lawsuits involving individuals diagnosed with non-Hodgkins lymphoma following Roundup exposure, each raising similar allegations that the manufacturer has withheld known risk information and failed to provide safety instructions for the glyphosate-based weedkiller.
Last summer, a state court lawsuit went to trial in California, resulting in a jury award of $289 million to a former school groundskeeper dying from non-Hodgkins lymphoma, including $250 million in punitive damages designed to punish the manufacturer. While the punitive damages were subsequently reduced, the judge who presided over the claim determined that the company should still pay $78 million in damages.
In February, the first federal trial ended in an $80 million verdict, after the jury found that Monsanto's Roundup was a substantial cause in the development of the plaintiff's non-Hodgkins lymphoma diagnosis. The case was a "bellwether", which was designed to help the parties gauge how other juries may respond to similar evidence and testimony that will be repeated throughout the litigation.
In addition, throughout 2019, a number of other claims are scheduled to go before juries nationwide, including a multi-plaintiff trial involving more than 15 individuals that is set to begin in October. However, if Monsanto fails to reach Roundup settlements to resolve claims, they could face years of litigation and substantial verdicts as more evidence is discovered about the true risks associated with the weedkiller.
"*" indicates required fields