Prenatal Exposure to Hormone Disrupting Chemicals Linked to Weight Gain Later in Life, Study Warns
October 27, 2023
By: Martha Garcia
Infants whose mothers were exposed to endocrine-disrupting chemicals during pregnancy have a higher likelihood of potentially unhealthy weight gain later in life, according to the findings of a new study.
In a report published last week in the journal Environmental Health Perspectives, Spanish researchers indicate that unborn children may be impacted by prenatal exposure to chemicals found in a number of products, including flame retardants, hair relaxers, pesticides and other items.
Children born to mothers exposed to the chemicals face a risk of rapid increases in body weight as they age, which may lead to a number of other adverse health effects.
Endocrine Disruptor Exposure Linked to Rapid Weight Gain
Researchers from the Barcelona Institute for Global Health focused on examining prenatal exposure to endocrine-disrupting chemicals and fetal growth. Their study used data from the Infancia y Medio Ambiente (INMA) Spanish birth cohort study, which included data for more than 1,900 patients gathered from 2003 to 2008.
They examined persistent and non-persistent chemical concentrations in blood and spot urine samples among pregnant women and their children at several points during childhood. They then studied body mass index (BMI) growth trajectories from infancy to 9 years old.
The study looked at chemicals including per- and poly-fluoroalkyl substances (PFAS), perfluorononanoic acid (PFNA), hexachlorobenzene (HCB), 4-4'-dichlorodiphenyldichloroethylene (DDE), and polychlorinated biphenyls (PCBs).
According to their findings, infants who were exposed to the most endocrine-disrupting chemicals during pregnancy were more likely to be born smaller than average. However, those same infants tended to experience rapid weight gain in the early years of life.
The findings indicate exposure to HCB, DDE, PCB, PFAS, and PFNA was linked with an increased risk of experiencing rapid growth from low birth weight to a higher BMI; averaging a gain of 19% to 32% from birth to 9 years old. Higher exposure to two endocrine-disrupting chemicals was also linked with an increased BMI in childhood if the baby was born larger than average, they determined.
Researchers said the reason may be linked to how the endocrine-disrupting chemicals block hormones in the body, disrupting hunger signals and disrupting how the body uses food for energy.
They warned that exposure during pregnancy can be especially harmful since the organs of a fetus are still forming.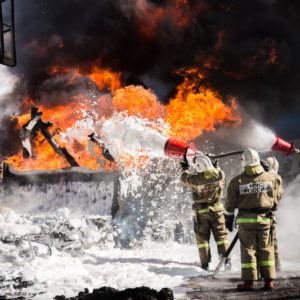 PFAS, also known as forever chemicals, degrade very slowly, meaning they persist in the environment and human body, and can have a long-lasting effect on human health. These chemicals are found in nonstick cookware, cosmetics, plastic food containers, pesticides, and fungicides, as well as some types of aqueous film-forming foam used by civilian organizations and the military, which has led to a number of firefighter foam injury lawsuits, and PFAS water contamination lawsuits in recent years.
These chemicals can also be found in meat and fish due to contaminated water sources, groundwater, and natural environments.
In June 2023, 3M Company agreed to pay over $12.5 billion in an AFFF water contamination settlement, to resolve claims brought by local water suppliers. However, there have not been any reported settlements in AFFF lawsuits brought by former military service members or firefighters, and none of those individual claims have yet gone before a jury.
Recommendations for Pregnant Women
Other studies have linked exposure to endocrine-disrupting chemicals to an increased risk of childhood liver injuries, cancer, and thyroid disease. Research has even linked exposure to forever chemicals during childhood to an increased risk of brain development disorders and a heightened risk of attention deficit hyperactivity disorder (ADHD).
The researchers  in this latest study indicated Americans are exposed to dozens, sometimes hundreds, of PFAS and other endocrine-disrupting chemicals simultaneously from multiple sources on a daily basis.
Previous studies only focused on individual aspects of growth at specific time points during childhood using single chemical exposure models, the researchers noted. But this study focused on fetal exposure to more than one chemical, which is closer to what humans actually experience.
Researchers indicate that pregnant women can try to reduce their exposure to forever chemicals by not using plastic food storage containers, not heating plastic containers in the microwave, cooking with stainless steel or cast iron pans instead of nonstick pans, and avoiding tuna and swordfish, which contain higher concentrations of mercury and other chemicals.
Pregnant women can also eat organic foods to avoid pesticides and opt for personal care products that don't contain parabens and phthalates on the label.
The study authors called for more research on PFAS, since rapid BMI gain is linked to a higher risk of other diseases and health side effects later in life.
Tags:
Chemicals,
Children,
Endocrine Disruptors,
Firefighter Foam,
infants,
Low Birth Weight,
PFAS,
Plastics,
Pregnancy,
Water Contamination,
Weight Gain
Image Credit: |
"*" indicates required fields