Redken Class Action Lawsuit Filed Over Dry Shampoo Benzene Contamination, Cancer Risks
December 01, 2022
By: Irvin Jackson
A Chicago woman has filed a class action lawsuit over Redken dry shampoo, alleging that the aerosol spray products contain high levels of benzene, which could put consumers at an increased risk of cancer.
The complaint (PDF) was filed by Eileen Hirsch in the U.S. District Court for the Northern District of Illinois on November 22, seeking class action status to pursue damages for all consumers who bought L'Oreal's Redken dry shampoo spray products and may have suffered benzene exposure as a result.
Benzene is an industrial chemical that has long been linked to fatal forms of leukemia and other cancers such as AML, Chronic Myelogenous Leukemia (CML), Acute Lymphocytic Leukemia (ALL), Chronic Lymphocytic Leukemia (CLL), Hairy Cell Leukemia (HCL), Non-Hodgkin's Lymphoma, Multiple Myeloma, Myelodysplastic Syndrome (MDL), Myelofibrosis and Myeloid Metaplasia, Aplastic Anemia and Thrombocytopenic Purpura.
Redken Dry Shampoo Lawsuit
Were you or a loved one diagnosed with cancer following exposure to dry shampoo contaminated with benzene?
CONTACT A LAWYER
On November 1, the independent online pharmacy Valisure announced it had found high levels of benzene in most dry shampoo spray products it tested. According to the lawsuit, Redken was one of those products tested, with Valisure finding it contained 7.55 parts per million (ppm) of benzene.
Since the toxic dry shampoo is applied directly to the hair and scalp, health officials warn that benzene could enter an individual's bloodstream through inhalation, orally, and through the skin, which, over time and repeated use, could result in adverse health effects from benzene exposure.
While Hirsh does not indicate she suffered a direct injury from using L'Oreal's products, she indicates she used Redken Deep Clean Dry Shampoo regularly for two years, unknowingly exposing herself to a toxic, cancer-causing chemical due to the manufacturer's failure to warn consumers about the risk, or make a safer product.
"Valisure tested multiple other brands of dry shampoo products, several of which were found to be 'below the lower limit of quantitation,' demonstrating that the Products could have been manufactured without the use of benzene," Hirsh's lawsuit notes. "Accordingly, any level of benzene in Defendant's Products is unacceptable and renders the Products adulterated, misbranded, unsafe, and worthless."
Hirsh argues that if consumers had been informed about the presence of benzene in Redken shampoo products, they would not have purchased them or would have paid a much lower price.
The lawsuit claims the class members are entitled to refunds of the money paid to purchase Redken dry shampoo products, as well as statutory and punitive damages, attorneys' fees and costs, and injunctive relief.
Dry Shampoo Recalls
In late October, the U.S. Food and Drug Administration (FDA) announced an Unilever dry shampoo recall , instructing consumers to stop using certain Dove, Nexxus, Suave, TIGI and TRESemmé dry shampoo products, which contain elevated levels of benzene contamination from the propellant used by the manufacturer.
The recall included 19 different brands of dry shampoo, including many popular products such as Dove Dry Shampoo Volume and Fullness, Dove Dry Shampoo Fresh Coconut, Nexxus Dry Shampoo Refreshing Mist, Suave Dry Shampoo Hair Refresher, Tresemme Dry Shampoo Volumizing, Bed Head Oh Bee Hive Dry Shampoo and many others.
In December 2021, a similar Proctor & Gamble dry shampoo recall was issued, which impacted 32 separate lines of aerosol shampoo and conditioner products that may contain elevated levels of benzene. The products impacted by the recall include the popular brand names Pantene, Aussie, Herbal Essences, Old Spice and Waterless.
Aerosol Spray Sunscreen & Deodorant Lawsuits
The series of dry shampoo recalls and lawsuits comes manufacturers already face a number of individual claims and class action lawsuits over high levels of benzene in other aerosol spray products sold in recent years, including sunscreen, deodorant and antiperspirant sprays.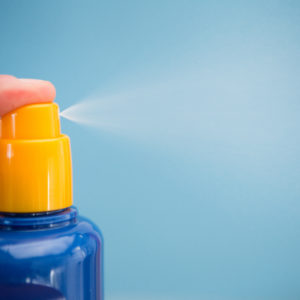 In May 2021, the online pharmacy Valisure issued a report that found benzene in 78 spray sunscreen and after-sun care products in their inventory, indicating that more than a quarter of the sunscreen contained the cancer-causing chemicals at levels that exceed what the FDA considers safe.
Weeks later, Johnson & Johnson issued a massive Neutrogena and Aveeno sunscreen recall, and other companies followed suit with Coppertone sunscreen recalls, Banana Boat sunscreen recalls and other spray sunscreen being removed from the market due to benzene contamination.
Manufacturers have already reached agreements to settle class action claims brought over sunscreen and deodorant products, and dozens of individual cancer lawsuits are being pursued by consumers diagnosed after routinely covering large areas of their body with the benzene-contaminated spray.
"*" indicates required fields