Sunscreen Benzene Warnings Added to Summer Sun Safety Guide Issued By Federal Health Officials
August 18, 2022
By: Russell Maas
Following recalls issued for many popular aerosol spray sunscreen products found to contain high levels of benzene, which have resulted in a number of sunscreen cancer lawsuits being filed against the makers of Neutrogena, Aveeno, Coppertone, Banana Boat and other products, federal health officials have updated their summer sun safety guides to warn about the problems.
The U.S. Food and Drug Administration (FDA) released a series of sunscreen safety tips and warnings this week, advising consumers to check their inventory of spray products that have been recalled, and to dispose of any products that may still be in consumers' homes that are known to contain high levels of benzene.
Benzene is an industrial chemical that has long been linked to fatal forms of leukemia and other cancers. The FDA considers it a solvent which should not be used in drug products, if avoidable. However, if benzene is not avoidable, it should be restricted to 2 parts per million (ppm), FDA regulations state.
Long-term side effects of benzene exposure have been proven to cause anemia, which is a condition that develops when your blood lacks enough healthy red blood cells or hemoglobin. Essentially, the chemical causes bone marrow not to produce enough red blood cells, which can damage an individual's immune system. Federal regulators have determined long-term exposure to benzene can significantly impact blood cells, to the extent it causes cancer such as leukemia, a cancer of the blood-forming organs.
Benzene in Sunscreen Linked to Reports of Lymphoma Cancer
Concerns about high levels of benzene in sunscreen emerged in May 2021, when testing conducted by the online pharmacy Valisure found that benzene in 78 sunscreen and after-sun care products from their inventory. More than a quarter of the sunscreen benzene levels exceeded 2 ppm; the level at which the FDA considers the chemical to pose a safety concern.
A few months later, Johnson & Johnson issued a massive Neutrogena and Aveeno sunscreen recall in July 2021, after routine sample testing identified the presence of an unknown source of benzene contamination in those aerosol products as well.
Since then Coppertone sunscreen recalls, Banana Boat sunscreen recalls and a number of similar other actions have been taken by manufacturers, after confirming the chemical was present at potentially unsafe levels in their products.
Manufacturers now face lawsuits filed by consumers diagnosed with various types of lymphoma, often among individuals who report that they routinely used the contaminated aerosol spray sunscreen all over their bodies.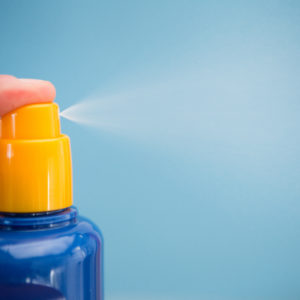 Despite recall notices posted by federal regulators, many bottles of these recalled sunscreens remain in the homes of consumers nationwide, and may pose a health risk for consumers.
Investigations Continuing into Sunscreen Benzene Contamination
Although additional research is ongoing, the FDA states the presence of benzene in many of the recalled sunscreens may be caused by the inactive ingredients, such as carbomers, which are thickening agents, and isobutene, a spray propellant.
Medical research has also suggested benzene can form in sunscreens as a result of the active ingredient octocrylene degrading. Octocrylene, which is an organic compound used as an ingredient in sunscreens and cosmetics, can naturally degrade into the chemical benzophenone and has been linked to interference with the normal function of hormones and reproductive organs.
Officials are warning that benzene exposure from sunscreen can cause long term health consequences. The warning states when benzene is inhaled or absorbed through the skin in small amounts from sunscreen over a long period of time can decrease the formation of blood cells. The latest release specifically warns these types of exposure to benzene in sunscreen can increase the risk of consumers developing cancers such as leukemia and other blood disorders.
While the FDA is advising consumers to be aware of the recalled sunscreen products, the agency is still recommending consumers use approved and commercially available sunscreen products to limit their exposure to harmful UV rays from the sun to prevent skin cancer risks.
The report states there were an estimated 1.3 million people living with melanoma of the skin in the U.S in 2019, and 4.3 million people are treated for basal cell carcinoma and squamous cell carcinoma annually. The National Cancer Institute projects there will be 99,780 new cases of skin melanomas and 7,650 related deaths in 2022.
"*" indicates required fields