Artificial Tears Infection Outbreak Has Impacted Nearly 70 People in 16 States, Per CDC Update
March 15, 2023
By: Russell Maas
Following an initial Artificial Tears eye drops recall was announced in early February, federal health officials continue to discover additional individuals who suffered severe eye infections and other injuries caused by antibiotic-resistant bacteria that contaminated several different products distributed throughout the U.S.
The U.S. Center for Disease Control and Prevention (CDC) released an Artificial Tears outbreak update on March 14, indicating that the agency is now aware of at least 68 individuals from 16 different states who used recalled eye drops and developed severe eye infections or blood stream infections, including individuals who required hospitalization and some who experienced total vision loss.
This includes at least 12 new cases since the recall was first announced, leading health officials to reiterate warnings that consumers and medical providers should immediately stop using EzriCare and Delsam Pharma Artificial Tears eye drops, which have been found to be contaminated with carbapenem-resistant Pseudomonas aeruginosa in opened bottles.
Artificial Tears Infection Recall
Information about the Artificial Tears infection outbreak first surfaced in late January, when the CDC identified a cluster of individuals experiencing bacterial infections after using EzriCare eye drops. This immediately led to calls for a recall, and a steadily growing number of Artificial Tears lawsuits brought both by individuals diagnosed with infections, as well as consumer class action claims that seek economic damages and medical monitoring.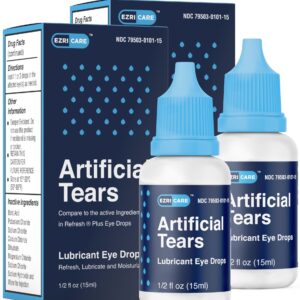 The recall initially impacted 15 ml bottles of EzriCare Artificial Tears, sold in a blue box, and Delsam Phama Artificial Tears, sold in a white box. However, several weeks later, the FDA expanded the recall to include Delsam Pharma Artificial Eye Ointment as well.
According to the latest CDC update, after cases were initially limited to 11 states, the agency now reports cases have spread across 16 states, with clear no geographic relevance to one another.
The EzriCare and Delsam Pharma Artificial Tears were sold through Amazon.com, Walmart and other nationwide retails, and have been widely used by consumers for symptoms of dry or itchy eye symptoms, or other eye conditions, such as glaucoma or ocular hypertension. The recalled eye drops were also distributed directly to hospitals, healthcare centers and nursing homes nationwide.
CDC investigators firsts began looking at the Artificial Tears products after several Pseudomonas aeruginosa outbreaks in nursing homes surfaced in Connecticut and Utah, and have indicated that elderly or infirmed individuals may face the greatest risk.
Health officials indicate that all consumers should be aware of the potential eye infection symptoms, which may include;
Yellow, green, or clear discharge from the eye
Eye pain or discomfort
Redness of the eye or eyelid
Feeling of something in your eye (foreign body sensation)
Increased sensitivity to light
Blurry vision
At this time, the CDC is continuing to work with state agencies and announced that testing of unopened bottles of EzriCare Artificial Tears is ongoing to determine whether contamination may have occurred during manufacturing.
Artificial Tears Eye Drops Lawsuits
As the number of reported eye drops infections continue to rise, a series of eye drops lawsuits have been filed in recent weeks, claiming the manufacturers failed to perform proper microbial testing, allowing the products to be sold directly to consumers containing Pseudomonas aeruginosa.
The Artificial Tears lawsuits claim that, as a result, consumers have now suffered eye infections that have resulted in permanent vision loss and other injuries.
Lawyers are actively investigating potential eye drop infection lawsuits against the manufacturers and distributors of EzriCare and Delsam Pharma's eye drops for multiple injuries and side effects caused by the contamination, including;
Eye Infection
Partial Blindness
Permanent Blindness
Bloodstream Infection
Other injuries caused by the eye drops

Did You Experience an Artificial Tears Eye Infection?
Lawsuits are being pursued for individuals who may be entitled to financial compensation after experience eye infections from contaminated Artificial Tears.
FIND OUT IF YOU QUALIFY
"*" indicates required fields