Biocell Breast Implant Lawsuit Calls For Manufacturer To Pay For Removal After Recall
October 15, 2020
By: Irvin Jackson
Allergan faces a product liability lawsuit over its refusal to pay for costs associated with removal of recalled breast implants, which have been linked to a rare form of cancer that may develop in the surrounding tissue, known as breast implant-associated anaplastic large cell lymphoma (BIA-ALCL).
In a complaint (PDF) filed in the U.S. District Court for the District of New Jersey on October 8, Jody Craft indicates she had her Allergan Biocell breast implants removed on the advice of her doctor, following a recall issued last year.
Allergan removed all breast implants with the Biocell textured design from the market after federal regulators linked nearly all cases of BIA-ALCL to the design. Since then, thousands of women have undergone surgical procedures to remove the breast implants, as doctors commonly recommend that is the best means of avoiding a future lymphoma diagnosis. However, the manufacturer has refused to pay for costs associated with the surgical removal or replacement of the breast implant, as well as other damages that result from the additional procedure.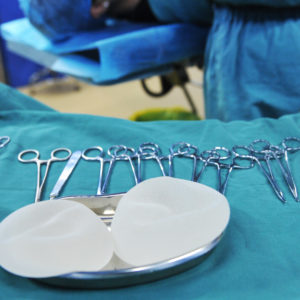 Craft indicates she not only had to pay for the costs associated with the breast implant removal, but was left with permanent scarring, disfigurement and debilitating physical pain.
"Plaintiff was implanted with Biocell Textured Breast Implants and suffered, or will suffer, painful removal procedures as well as any treatment, therapy, recovery, and expense associated with the removal of the Biocell Textured Breast Implants, the potential for the development of BIA-ALCL or the prevention of that issue," Craft's lawsuit states.
The case joins other similar breast implant lawsuits filed by women nationwide in recent months, alleging that Allergan knew about problems associated with the design for years, yet failed to warn women, the medical community or federal regulators, continuing to promote the textured design as safe and effective.
Earlier this year, the FDA issued an update about the link between textured breast implants and malignant lymphoma, indicating that at least 733 cases of BIA-ALCL have been identified worldwide, with at least 620 of the cases linked specifically to Allergan implants.
There are currently at least 300 breast implant class action and product liability lawsuits filed in the federal court system, which have been consolidated for pretrial proceedings in New Jersey. However, as breast implant recall lawyers continue to review and file claims in the coming weeks and months, the size and scope of the litigation is expected to continue to grow.
Barbara

October 21, 2020 at 12:15 am

I have the mcGhan textured implants also 15 years ago and need help with this issue

Dania

October 20, 2020 at 6:34 pm

15 years ago I implanted Mcghan (now allergen) textured silicone gel implants. Three months ago my right breast swelled significantly and I was experiencing pain. The MRI showed that that the implant had ruptured. My surgeon advised that I remove them immediately and have the seroma and capsule tested for BIA ALCL. On Wednesday, October 14 I had an expectation with complete capsulectomy. I rea[Show More]15 years ago I implanted Mcghan (now allergen) textured silicone gel implants. Three months ago my right breast swelled significantly and I was experiencing pain. The MRI showed that that the implant had ruptured. My surgeon advised that I remove them immediately and have the seroma and capsule tested for BIA ALCL. On Wednesday, October 14 I had an expectation with complete capsulectomy. I reached out to Allergan to ask for support they said they not willing to cover the cost for anything. They were only willing to offer a new set of implants. My surgeon did not advise getting new ones at this time (maybe later after four-six months). I would have to pay out-of-pocket for that surgery as well. Between all the lab work explantation I've already paid over $10,000. I get my BIA-ALCL pathology results today. I'm scared
"*" indicates required fields