After Similac Recall, FDA Advisory Committee Meeting on Cronobacter in Infant Formula Set for November
October 27, 2022
By: Irvin Jackson
The U.S. Food and Drug Administration (FDA) is calling on a panel of scientific advisors to meet next month to discuss how the regulatory agency can better ensure infant formula products are free of cronobacter bacteria, following a deadly Similac recall issued earlier this year which caused a nationwide formula shortage.
On October 21, the FDA announced it was calling together its National Advisory Committee on Microbiological Criteria for Foods (NACMCF) for a virtual public meeting on November 15. The agency indicates it wants the committee to help guide it on making new food safety recommendations for powdered infant formula products.
Abbott Laboratories issued a Similac, Alimentum and Elecare formula recall in February 2022, after disclosing the powdered infant formula manufactured at a Michigan facility was contaminated with Cronobacter sakazakii and Salmonella Newport bacteria.
At least two infant deaths and hundreds of illnesses have been reported by parents who fed the recalled formula to their children, and subsequent investigations have revealed that Abbott ignored industry safety standards and best practices at its facility for years, endangering children for the sake of profits.
Shortly after the recall, individual and class action lawsuits started to be filed, and it is ultimately expected that several thousands Similac, Alimentum and EleCare Recall lawsuits will be included in the litigation.
SIMILAC RECALL LAWSUIT
Was your child hospitalized due to Cronobacter, Salmonella or another infection following use of Similac, Alimentum or Elecare formula?
CONTACT A LAWYER
The FDA is asking its advisory committee to help the agency "gain scientific insight" about cronobacter infections and how public health authorities can prevent infant formula cronobacter food poisoning outbreaks. It also wants the committee to make "recommendations for food safety management practices that the food industry can implement to enhance the safety of powered infant formula."
As an advisory committee, the NACMCF does not have any regulatory authority, and can only make recommendations to the FDA. The agency is not required to follow those recommendations, but they usually play a large role in the FDA's decision-making process.
The FDA has scheduled the meeting for November 15 from 10 a.m. to 12 p.m. It will be a virtual meeting using Zoom. Attendees must pre-register to receive a join link, dial-in number, access code, and unique Attendde ID to attend the meeting. For more details on how to attend, and how to submit comments, see the FDA's Federal Register notice.
Similac Investigation Highlights Mistakes in Oversight
The meeting comes following recent revelations that the FDA itself admits it botched its investigation of the Similac recall.
Soon after the recall, it became apparent that Abbott and the FDA knew about the Similac contamination problems since at least September 2021, when the Minnesota Department of Health began investigating a case involving an infected infant. However, the formula continued to be distributed, remained on store shelves and families nationwide continued to feed the contaminated products to infants for another several months.
In February 2022, Abbott was forced to close the Sturgis, Michigan plant where the formula was contaminated, due to widespread safety problems, which shut down production at one of the major sources of infant formula in the United States. This contributed to a nationwide shortage of infant formula earlier this year.
In September 2022, the FDA issued a 10-page report highlighting a number of deficiencies on behalf of the agency, indicating it had failed to properly respond to the outbreak and problems at the facility.
Abbott now faces dozens of contaminated Similac lawsuits brought by families of infants nationwide who were diagnosed with Salmonella, Cronobacter or other infections linked to bacteria at the manufacturing facility, and serious questions are being raised about why the problems were not addressed much earlier.
Necrotizing Enterocolitis (NEC) Lawsuits Over Similac and Enfamil
Concerns about Abbott's handling of contaminated baby formula come as the company is already facing hundreds of necrotizing enterocolitis (NEC) lawsuits that have been filed by parents of premature infants who developed a devastating gastrointestinal condition after they were fed the cow's milk formula in the hospital or NICU.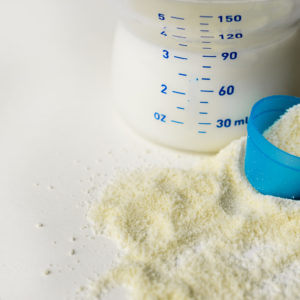 That litigation emerged over the past few years, after studies found premature infants face a substantially greater risk of developing NEC after they are fed Similac, Enfamil or other cow's milk-based formula products, as opposed to a mother's breast milk, donor milk or human milk formula products.
Although there is evidence that Abbott Laboratories has known about the NEC risks for premature infants for years, the company has engaged in aggressive marketing to hospitals and parents of new borns, including versions of their product specifically intended for premature infants. As more information has come out about the risk, the company has also engaged in abusive and aggressive legal tactics in response to early NEC lawsuits, including threats to lawyers advertising to raise awareness among families about the potential for a settlement.
November 2022 Similac Lawsuit Update
The problems over Similac formula have resulted in two separate coordinated proceedings in the federal court system, including one multidistrict litigation (MDL) established before U.S. District Judge Matthew F. Kennelly in the Northern District of Illinois for all Similac, Alimentum and EleCare recall lawsuits. A separate MDL proceeding has been established before U.S. District Judge Rebecca R. Pallmeyer for the Similac NEC lawsuits, as well as Enfamil NEC lawsuits brought over problems linked to the competing cow's milk formula.
While early pretrial proceedings before Judge Kennelly are still being established in the litigation over contaminated baby formula in October 2022, Judge Pallmeyer has established a "bellwether" process in the NEC case, where the parties are already selecting a small group of representative claims for early trial dates.
Although the outcome of these bellwether trials will not be binding on other plaintiffs pursuing lawsuits against Abbott, they will be used to gauge how juries are likely to respond to certain evidence and testimony about the aggressive strategies employed by the company to withhold information about the risks associated with their products, and may have a large impact on the amount of Similac settlements Abbott may pay to avoid the need for each individual lawsuit to go before a separate jury.
"*" indicates required fields