FDA Updates Infant Formula Compliance Program To Prevent Contamination Risks
October 11, 2023
By: Katherine McDaniel
Federal health officials have added new compliance rules for infant formula manufacturers, including annual environmental sampling and reporting requirements when contaminants are detected, such as those which led to a massive Similac recall last year.
The U.S. Food and Drug Administration (FDA) updated its infant formula compliance program on October 6, including guidelines for testing for cronobacter and salmonella in infant formula production facilities. The new rules include directions for what to do if a sample is found to be contaminated with cronobacter or salmonella, and how to report samples that fail to meet federal nutritional standards.
The updated compliance program comes amid recent efforts by officials to improve the safety of the nations infant formula supply chain, following formula shortages and illnesses caused by a Similac recall in February 2022.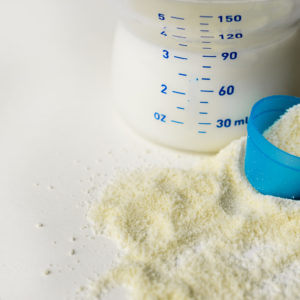 The FDA update places a strong emphasis on annual environmental sampling to detect cronobacter and salmonella at powdered infant formula facilities. Officials have set a specific series of actions to be taken by manufacturers after positively identifying a positive sample of cronobacter or salmonella, requiring the manufacturer to immediately notify the agency.
Officials have also provided steps for manufacturers to take if an infant formula sample fails to meet nutritional standards, and how to quickly notify the FDA of these findings.
FDA Urges Infant Formula Manufacturing Industry to Improve Safety
The FDA has issued a number of warning letters in recent weeks calling on the infant formula manufacturing industry to improve safety practices and processing procedures in facilities, warning about safety violations, and urging companies to inform the agency of any potential baby food contamination found, especially cronobacter.
In August, the FDA issued warning letters to several infant formula manufacturers and distributors after testing identified cronobacter in three production plants. In the warning letters, manufacturers were instructed to investigate the source of the cronobacter contamination, and to reevaluate their cleaning and sanitation procedures before reopening the facilities.
Cronobacter is rare type of bacteria often found in dry foods such as infant formula, skimmed milk powder, tea and starches. The bacteria can cause serious life-threatening infections or meningitis (an inflammation of the membranes that protect the brain and spine), which can be particularly deadly for infants, the elderly, or those with weakened immune systems.
Similac Contamination Recall Lawsuits
Following the recall in February 2022, Abbott Laboratories now faces dozens of Similac contamination lawsuits brought by families of infants nationwide who were diagnosed with Salmonella, Cronobacter or other infections linked to bacteria found at the manufacturing facility.
Within days, reports began to surface that suggested the company knew about the Similac manufacturing problems at its facility since at least September 2021, when the Minnesota Department of Health began investigating a case involving an infant infected with Cronobacter. In the months following the recall, at least two infant deaths and hundreds of illnesses were reported by parents who fed the contaminated baby formula to their children.
Subsequent investigations have revealed that Abbott ignored industry safety standards and best practices at its facility for years, endangering children for the sake of profits, leading to individual and class action lawsuits filed throughout the federal court system.
Given common questions of fact and law raised in complaints filed against Abbott over the Similac recall, the U.S. Judicial Panel on Multidistrict Litigation (JPML) established coordinated pretrial proceedings before U.S. District Judge Matthew F. Kennelly in the Northern District of Illinois, who is working with the parties to select a small group of bellwether cases for early trial dates.
In addition to lawsuits over the Similac cronobacter recall, Abbott Laboratories also faces a separate group of infant formula lawsuits involving premature babies diagnosed with necrotizing enterocolitis (NEC). Similar allegations have also been raised in a number of Enfamil lawsuits brought against Mead Johnson, who received one of the FDA warning letters in August.
"*" indicates required fields