Batiste Dry Shampoo Lawsuit Settlement Reached Over Benzene Cancer Risks
August 16, 2023
By: Irvin Jackson
The makers of Batiste Dry Shampoo have reached a $2.5 million settlement agreement in a class action lawsuit brought over the presence of benzene in the aerosol spray cans, which plaintiffs claimed exposed them to an increased risk of cancer.
The Batiste dry shampoo class action lawsuit was filed in November 2022, claiming that the manufacturer, Church & Dwight, Co., knew or should have known its products contained benzene, yet it continued to market the spray cans as safe and effective to use as an alternative to washing your hair in the shower.
Plaintiffs sought damages for all consumers, alleging that premium prices were paid for the recalled dry shampoo, which actually exposed users to serious health risks. Following negotiations, the parties announced the settlement agreement (PDF), and preliminary approval was granted by the courts a few weeks ago.
Individuals who wish to participate in the settlement agreement have until November 15 to file a claim, and have until September 16 to opt-out or file an objection to the settlement agreement. A final approval hearing has been scheduled for October 16 in the U.S. District Court for the Northern District of Illinois.
To qualify as a settlement class member, consumers must have purchased on or more of the company's Batiste or Bare products before May 30, 2023. A Batiste dry shampoo class action settlement website has been established which includes the claim forms needed to apply for compensation.
While proof of purchase is not necessary, those with proof are expected to receive a higher payout.
Dry Shampoo Benzene Contamination Recalls
The Batiste dry shampoo class action lawsuit came amid a string of shampoo recalls issued last year, due to the presence of benzene.
Benzene is an industrial chemical which has long been linked to fatal forms of leukemia and other cancers such as AML, Chronic Myelogenous Leukemia (CML), Acute Lymphocytic Leukemia (ALL), Chronic Lymphocytic Leukemia (CLL), Hairy Cell Leukemia (HCL), Non-Hodgkin's Lymphoma, Multiple Myeloma, Myelodysplastic Syndrome (MDL), Myelofibrosis and Myeloid Metaplasia, Aplastic Anemia and Thrombocytopenic Purpura.
In late October 2022, the U.S. Food and Drug Administration (FDA) announced an Unilever dry shampoo recall , instructing consumers to stop using certain Dove, Nexxus, Suave, TIGI and TRESemmé dry shampoo products, which contain elevated levels of benzene contamination from the propellant used by the manufacturer.
The recall included 19 different brands of dry shampoo, including many popular products such as Dove Dry Shampoo Volume and Fullness, Dove Dry Shampoo Fresh Coconut, Nexxus Dry Shampoo Refreshing Mist, Suave Dry Shampoo Hair Refresher, Tresemme Dry Shampoo Volumizing, Bed Head Oh Bee Hive Dry Shampoo and many others.
In December 2021, a similar Proctor & Gamble dry shampoo recall was issued, which impacted 32 separate lines of aerosol shampoo and conditioner products that may contain elevated levels of benzene. The products impacted by the recall include the popular brand names Pantene, Aussie, Herbal Essences, Old Spice and Waterless.
Since the dry shampoo products in both recalls are intended to be applied directly to the hair and scalp, health officials warned that benzene could enter an individual's bloodstream through inhalation, orally, and through the skin, which, over time and repeated use, could result in adverse health effects from benzene exposure.
On November 1, 2022, the independent online pharmacy Valisure announced it has found high levels of benzene in most dry shampoo spray products it tested. After reviewing the results of its own benzene testing, Valisure filed an FDA Citizen petition to have the products pulled from store shelves for public safety.
The Batiste dry shampoo class action lawsuit was filed just days later.
Sunscreen Benzene Recall Lawsuits and Settlements
The series of dry shampoo recalls, lawsuits and settlements come as manufacturers already face a number of individual claims and class action lawsuits over high levels of benzene in other aerosol spray products sold in recent years, including sunscreen, deodorant and antiperspirant sprays.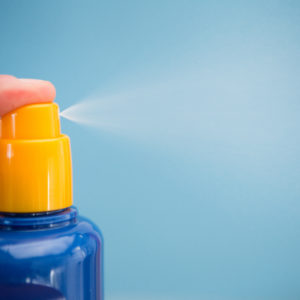 Johnson & Johnson issued a massive sunscreen recall in 2021, after a report released by the on-line testing pharmacy Valisure found that samples of Neutrogena and Aveeno sunscreen contained dangerous levels of benzene, a toxic chemical that is known to increase the risk of cancer and could pose long-term health risks in sunscreen, which many individuals liberally apply to their body on a regular basis.
In the wake of the recall, a number of sunscreen class action lawsuits were filed throughout the federal court system, seeking damages for consumers who purchased the products. The lawsuits over benzene contamination have been centralized for coordinated management as part of a federal MDL, or multidistrict litigation, in the U.S. District Court for the Southern District of Florida before Judge Raag Singhal for pretrial proceedings.
In March 2022, Judge Singhal granted preliminary approval to a settlement agreement that would resolve at least eight class action lawsuits filed against Johnson & Johnson over the presence of benzene in Neutrogena and Aveeno spray sunscreen products.
"*" indicates required fields