MDL Judge Urged to Defer Motions Seeking to Return Philips CPAP Lawsuits To State Courts
September 20, 2023
By: Irvin Jackson
A U.S. District Judge has been asked to defer ruling on motions to remand certain Philips CPAP lawsuits back to state courts where they were originally filed, indicating that a recent $479 million settlement agreement may resolve many of the claims brought by users of the recalled breathing devices, and additional complaints filed in state courts will soon be removed to the federal court system.
The cases stem from a massive Philips CPAP recall issued in July 2021, which impacted millions of sleep apnea devices that released toxic foam particles directly into the breathing machines' air pathways. The recall included CPAP, BiPAP and mechanical ventilators sold since 2009, which contained a defective polyester-based polyurethane (PE-PUR) foam, which was intended to cut down on noise as the machines were used.
However, consumers were told to immediately stop using their Philips machines more than two years ago, after the manufacturer acknowledged that the foam was breaking down, and releasing small black particles, chemicals and gasses directly into the lungs of users.
Former users have brought Philips CPAP lawsuits against the manufacturer in both the federal court system and various state courts, each involving allegations that former users have been diagnosed with cancer, respiratory illnesses, lung disease and other complications after regularly using the machines. A number of Philips class action lawsuit have also filed on behalf of all owners of the recalled machines, seeking compensation for economic damages suffered by consumers, even if they have not been diagnosed with an injury.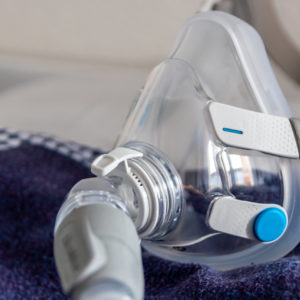 Philips CPAP Recall Lawsuit
The federal litigation has all been centralized before Senior U.S. District Judge Joy Flowers Conti in the Western District of Pennsylvania, for coordinated discovery and pretrial proceedings as part of a multidistrict litigation (MDL). In addition, Philips has filed immediate motions to remove many of the state court cases to the federal court system, where plaintiffs have been asking the court to return their claims back to the individual states where they were filed.
Philips CPAP Lawsuit Class Action Settlement
Earlier this month, Philips announced it will pay a minimum of $445 million in a CPAP recall settlement to individuals who bought, rented or leased one of the impacted devices, and another $34 million to health insurance companies and others who paid to reimburse users to replace the machines.
Plaintiffs who are part of the class action lawsuits will receive $100 for each device they returned to Philips due to the recall, and another $50 to $1,500 in compensation, depending on the type of device the plaintiffs used.
Plaintiffs may also be eligible for extended warranties on devices that were repaired or refurbished by the manufacturer.
If approved, the Philips CPAP class action settlement would resolve all economic claims against the manufacturer, and automatically include about 1.3 million users who have returned devices to Philips through its recall program without the need to submit a claim.
Philips Calls for Delay of Remand Motion
Before the settlement agreement was announced, the Court had planned to review six motions to remand certain Philips CPAP lawsuits out of the federal MDL and back to the state courts where they originated. The remand motions were filed in late August, and the court called for responses to be filed by October 31, and replies to those responses by November 30.
This week, the manufacturer filed a memorandum (PDF) with the court, calling for the remand motion schedule to be scrapped following the recent Philips CPAP recall settlement announcement.
"Two developments justify this relief: first, the universe of remand motions is not yet complete as there continue to be filed state court actions that cover the subject matter of the MDL; and second, Plaintiffs' recently-filed unopposed motion for preliminary approval of the proposed class settlement and release of economic loss claims necessitates additional time to evaluate the settlement's impact on the pending remand motions and the remand plaintiffs' claims more generally," the memorandum states. "The Philips Defendants request that the deadline to oppose remand motions be set for 30 days after the deadline to opt out of the Proposed Settlement, with reply briefs (if any) due 30 days later. The Plaintiffs' Steering Committee does not oppose this request."
Plaintiffs who brought the remand motions argue that their cases were improperly removed from state court due to a lack of diversity, saying Philips misapplied state laws to have the cases fraudulently removed.
One such motion (PDF), was filed on August 31 by Gayla Graham and her husband, Robert, of Kentucky. The couple indicates that Gayla bought a Philips DreamStation CPAP device in 2018. However, in January 2021 she was diagnosed with Sinonasal Undifferentiated Carcinoma, which the lawsuit indicates is an aggressive form of nose cancer. In carries a median survival rate of less than 18 months, and a five-year survival rate of less than 20%.
Another remand motion (PDF) was filed the same day on behalf of Douglas Dobbs and Mildred Gobert, who filed a Philips CPAP recall lawsuit in June 2022 against three Texas non-manufacturer defendants, Aerocare Home Medical, Inc., Aerocare Home Medical Equipment, Inc. and Healthline Medical Equipment, Inc., (collectively the "Texas Defendants") who sold defective CPAP machines to Plaintiffs.
Their lawsuit indicates Gobert used a Philips DreamStation CPAP machine for nearly 15 years, during which she began suffering from shortness of breath, coughing, sinus issues and headaches. Gobert has been diagnosed with pulmonary nodules in her lungs.
Dobbs, used a similar device for nearly three years, and a day after the CPAP recall was announced, he was diagnosed with pancreatic cancer, resulting in six rounds of chemotherapy treatment.
Their motion indicates that Philips wrongfully moved their case to federal court, even though it was not a named defendant, and all of the defendants in the original lawsuit were Texas-based entities, meaning the manufacturer could not adequately prove there was a reason to move the case from state court.
Philips said the company expects more such motions by those who wish to opt out of the settlement agreement, and suggests the court push back discussions of the remands until the parties know how many plaintiffs plan to participate. However, it is unclear how cases like the two referenced above will be affected, as both cases appear to be personal injury lawsuits, and not part of the economic class action litigation.
"The Philips Defendants expect that additional state court actions, removals, and remand motions will be filed in the coming months," the memorandum states. "This is particularly so in light of the Proposed Settlement, as those who wish to opt out of the settlement but who have not yet filed suit may initiate state court actions, thereby leading to more removals and remand motions."
Individual CPAP Injury Lawsuits Not Settled
Even after agreeing to pay at least $445 million, Philips continues to face tens of thousands of personal injury lawsuits brought over side effects of CPAP foam exposure, which has been linked to reports of cancer, leukemia, lymphoma, pulmonary fibrosis, interstitial lung disease, sarcoidosis and other disease.
In April, Philips CEO Roy Jakobs announced the company's intent to settle Philips CPAP recall claims involving economic losses later this year. In addition, Jakobs indicated the company hopes to resolve individual personal injury lawsuits sometime in 2024; a cost likely to far exceed the economic loss settlement.
Throughout the rest of 2023, the number of claims is expected to rapidly grow, both involving injuries diagnosed long before the recall, as well as new injuries that continue to be diagnosed months after users breathed the toxic particles released as the sound abatement foam degraded inside their machines.
As part of the coordinated management of the litigation, Judge Conti has also directed the parties to establish a Philips CPAP lawsuit bellwether process, where small groups of representative claims will be prepared for early trial dates if Philips CPAP settlements can not be reached to resolve large numbers of claims.
While the outcome of these early verdicts will not have any binding impact on other plaintiffs, the average Philips CPAP lawsuit payout amounts awarded by juries are likely to have a big influence on how much the manufacturer will pay to settle claims, to avoid each claim being remanded to different U.S. District Courts nationwide for separate trial dates in the future. However, a settlement agreement reached before then may make such trials unnecessary.
"*" indicates required fields